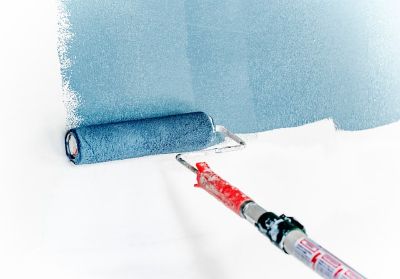 For the longest time, painters have relied on ordinary painting for most interior and exterior surfaces. Due to this, there was the invention of elastomeric paint in the early 1950s. This product has a formulation of a  high building coating that prevents the paint from cracking and peeling. The remaining question is, When Should You Use Elastomeric Paint?
Elastomeric paint places a secure coating on the surface you are painting, creating a barrier so that moisture cannot penetrate the walls. It works well on masonry, stucco, poured concrete, roofs, bricks, and metal surfaces. So, it's best to use this paint if you want a beautiful but durable surface that can withstand advanced environmental factors.
Apart from being durable, the elastomeric paint can seal small openings creating a watertight coating that will prevent moisture from damaging the surface.
For this and many more on elastomeric paint, keep reading…
Is Elastomeric Paint Necessary?
Yes, it's necessary, especially if you want to protect your project from moisture. This product is specifically formulated for use on masonry surfaces.
Like other paint types, the application method is straightforward. You only need to have tools such as a paintbrush, roller, or sprayer (with a large nozzle).
Even though you'll apply it in liquid form, this paint will eventually harden into a watertight, flexible covering.
If you follow the correct application methods, you'll realize the paint can stretch and return to its original state with no physical damage.
Below are more reasons elastomeric paint is necessary.
Unlike other paints that can damage under strong rains driven by winds, elastomeric paint is formulated to weather these storms.
What's best about this paint is how it's stretchy. Due to this, the product can flex with whatever structure you paint on.
With this feature, you don't have to worry about the advanced changing weather conditions. The elastomeric paint will shift with your wall or roof under such climates.
Elastomeric paints are above-grade, a high-build formula that protects masonry surfaces, in most cases exterior walls and roofs. As in the case of other paints, Elastomeric paint application is in liquid form.
When it hardens, it is flexible and watertight, suiting roofs. Most roof paint is elastomeric; it implies that the paint can stretch and return to its original form without damage. The flexibility of this paint makes it perfect for exterior walls and other surfaces that come into contact with heat and cold.
This product has watertight properties that will place a secure coating on your painting surface. The coating provides a water barrier that prevents moisture from penetrating your walls.
It's best to use this paint on surfaces such as masonry, poured concrete, metal, roofs, and bricks. 
Elastomeric paints give you between ten and twenty mills per coating, more than the two to three mills an ordinary house paint promises. The extra thickness in this paint means that you get better protection for your walls. The difference is in the texture and toughness of the two paints. The higher dry film thickness (DFT) is best for surfaces that see many harsh conditions, such as weather elements.
Elastomeric paint comes with a stronger composition and offers a thicker layer that lasts longer than most paints. In most cases, you will find these paints coming with a lengthy warranty of up to 10 years or more, more so when combined with an elastomeric coating. Ordinary paints normally have 2-3 year warranties, and a few last long without proper maintenance practices.
Therefore, it's obvious that elastomeric paint offers the best durability, which is why it is the best for stucco paint, exterior walls, and concrete block surfaces that see a lot of weather elements.
The item can adhere to almost every surface. The ability to form bond with most surfaces makes it flexible and handing for most projects provided you use it the right way.
Due to its thick coating, this paint helps prevent crack formation on any surface. Additionally, its high level of a adhesion does a lot to help prevent the formation of cracks on different surfaces.
With this product, you don't need multiple coats. Two layers on an excellent primer will ensure no moisture penetrates.
Note: Even though you can use this paint on most of your projects, it will not be necessary under the below circumstances.
Suppose your paint job is in good condition with a quality coating.

In such a case, consider using regular exterior house paint.

Under tight budget-

Here, you can go for a masonry primer and a double coat of quality paint for your stucco.

If you have multiple coats of paint-

It would be nice to know that elastomeric paint is a high build paint. Therefore, adding it to your previous layers of multiple coats will only make it heavy, thus pulling away from the application surface.
The Following Are the Disadvantages of Using Elastomeric Paint.
It's expensive.

The product is more difficult to work with since it's different from the standard paint.

It leaves unwanted lumps if you don't apply correctly.
Note: Despite the above drawbacks, elastomeric paint has more benefits than your regular paint.
What Is the Difference Between Elastomeric Paint and Acrylic Paint?
If you want the best paint for exterior purposes, go for either acrylic paint or elastomeric. These paints have excellent flexibility and resistance to elements.
With such characteristics, what brings out the difference between these two products?
Let's find out below.
Elastomeric Paint
It's thicker and stronger.

A property of paint.

Lasts longer.

It's great on most exterior surfaces when used properly.

The product doesn't breathe. Thus, if you trap moisture inside while painting on wood, it will eventually rot.

Regular patching is necessary when using it on wooden surfaces.

I recommend using epoxy when applying the product to the interior surfaces.

It's extra tough at extra cost.

The price is even more if you need a base coat, primer, and multiple layers.
Acrylic Paint
It's a thin and strong resin type paint.

It breathes, allowing moisture from underlying surfaces to escape.

You can use it for your interior surfaces with no need for additional treatment.

Water soluble colors while wet, but permanent water insoluble colors when dry.

The built up surface remains free from chips and cracks.

Softer in warm weather and less flexible in a cold one.

It air-dries by evaporation (thin paint films take 10 – 20 minutes while thick layers take 1 hour to 3 days).

Cleaning the surface is easy with soap and water.

The item requires non toxic thinners and mediums.

It produces little odor and no fumes.

The paint is non flammable.

It would help if you didn't mix with turpentine or oils.

Only mix with other acrylic emulsion paints or mediums.
With the above differences, choosing the perfect paint for your next project will depend on what you're focusing on.
Do You Have to Use Elastomeric Paint On Stucco?
No, you don't, even though elastomeric paint has more advantageous features.
The reason is that this paint type has a much lower permeability rating. Thus, it will not allow your wall to breathe with ease. 
However, you can go for it to reduce the cracks on your walls since it's good at bridging cracks.
Note: Elastomeric paint can stretch. Therefore, if you choose to use it for your project, ensure the next layer is an elastomeric coat.
Doing this will allow the coatings to stretch with the same proportionality.
So what are the pros and cons of using elastomeric paint on your stucco?
Read on to find out.
Pros
It's more water resistant than acrylic paint.

The product can bridge cracks, making them disappear.

It has excellent hiding qualities, thanks to its thickness.
Cons
It has a lower permeability rating.

If another coat is necessary, it should be an elastomeric coat.

It's the most expensive pain type.

The sun will cause it to look flat and dull.
Since the elastomeric paint has some drawbacks on stucco, which is the best paint to use on such a surface? 
I recommend using acrylic paint. It has a higher permeability value than elastomeric paint.
With such a feature, the acrylic paint will allow your stucco surface to breathe. Thus, it guarantees durability.
Note: You'll need to repaint often since the product does not last as long as elastomeric paint. Even so, it's less expensive to repaint.
Let's check the pros and cons of using acrylic paint on your stucco surface.
Pros
It has the highest permeability rating.

You can recoat with no major concerns.

It's pocket friendly and readily available.

Consider using a satin or semi gloss finish due to their water resistivity properties.

It's durable and flexible.
Cons
The paint doesn't hide a lot of imperfections.

It has a shorter life span. Thus, it would help if you repainted after some time.
Do You Need to Prime Before Using Elastomeric Paint?
Yes, it's good to use a primer before applying your elastomeric paint for proper adhesion. Apart from creating a better adhesive surface, the primer will also help seal any imperfection that may allow the moisture to penetrate and cause peeling.
How Long Will Elastomeric Paint Last?
This paint can last up to ten years as long as you do proper surface preparation and painting. Additionally, it is important that you pay a close attention to proper maintenance of the structures with this paint to ensure that it last longer providing satisfying service in the process. 
Note: Elastomeric roof coating will last between 10 to 20 years. However, this will depend on the millage of the coating.
Can I Paint Over Elastomeric Paint?
Yes, you can if you start by applying a surface roughage and a bonding primer. After the primer has dried completely, apply any regular latex or oil paint.
So, how will you paint over elastomeric paint?
Here is how.
You'll first need the following painting equipment:
Oil or latex paint

Water

Sponge

220 grit sandpaper

Dish soap

Paper towel

Paintbrush

Bonding primer
Here are the necessary steps for the painting job:
Step 1
Start by gently sanding the surface (use 220 grit sandpaper). Doing this will ensure you get a good adhesion surface.
Note: If you skip this step, the paint will easily slip, resulting in spotty coverage.
Step 2
 After sanding, use soapy water and a sponge to clean the surface. Any remaining dust or debris will prevent proper paint coverage.
Step 3
Once the surface is clean, use a paper towel to dry it.
Step 4
The next step is applying the bonding primer for an ideal adhesion with the other paint.
Step 6
Go for any regular latex or oil paint since they'll provide an excellent finish. 
Step 7
If you need additional coats, ensure you apply after the first coat has completely dried.
How Long Does It Take for Elastomeric Paint to Dry?
It will take at least 4 to 6 hours for your elastomeric paint to dry to the touch. However, you'll have to wait longer if you're from cooler temperatures and higher humidity areas.
The application between coats will take at least 24 hours.  And two weeks will be enough to wait before cleaning the finished surface with a mild, non abrasive liquid detergent.
For an elastomeric roof coating, 24 hours are enough for it to dry to the touch.
Note: The average drying time depends on the application techniques, layer thickness, and weather conditions.
How Many Sq Ft Does Elastomeric Paint Cover?
The paint covers approximately 150 to 200 square feet per gallon. On the other hand, it will cover at least 120 square feet per gallon for the first coat of fresh concrete.
However, you'll require up to 150 square feet per gallon for the second coat.
Note: Since you'll need a second coat for a waterproof seal, you'll want to get twice as much paint, thus reducing the coverage area.
Due to this, the average coverage area of the elastomeric paint ranges between 60 to 100 square feet per gallon for a final dry film thickness.
What Is the Best Way to Apply Elastomeric Paint?
The best way to make the application is using a latex brush or a roller. Ensure you get either the brush or roller wet.
Afterward, squeeze up the excess water before dipping it into the elastomeric paint.
Note: The surface must be clean before making the application.
How to apply elastomeric paint for the longevity of the texture coating
Step 1: Surface preparation
First, you'll inspect the surface for any imperfection, such as chipping, peeling paint, flaking, structural, or moisture damage.
After identifying the imperfections, ensure you repair them before proceeding to the next step.
Step 2: Trenching
The next step is raking loose any dirt or gravel to allow for the painting below the grade. Doing this will enable you to paint any inch of your home, preventing any previous color exposure.
Besides, trenching also helps keep the ground moisture from absorbing into your walls.
Step 3: Pressure Washing
Here, you'll want to pressure wash the surface to remove any old paint and stains. If you don't have a pressure washer, consider using a stiff broom or wire brush.
Note: Ensure you use a pressure between 2,000 and 2,500 psi. Also, remember to test the pressure on your surface to prevent unnecessary damage.
Tip: Never add a cleaner or bleach to the water when pressure washing.
Step 4: Scraping and Sanding
Scrap and sand your surface to create a uniform surface for better adhesion.
Step 5: Repair and Patch
Even though elastomeric paint seals smaller cracks, you'll need to manually seal the ones larger than 1/16" (0.16 cm).
Consider using acrylic or siliconized caulk for the cracks. A caulk gun will make your work easier, while a putty knife will help smooth out the surface.
Tip: Don't use pure silicone caulks.
Step 6: Mask
The main purpose of masking is to prevent the texture coatings from forming shiny or polished areas on the surface. Therefore, ensure you mask off all your windows, doors, sidewalks, and shrubs.
Step 7: Priming
You won't have to skip this significant step unless you want water to penetrate through your home.
Ensure you gently make the application for the best results.
Note: The durability of your elastomeric paint coat will depend on the amount of primer you use.
For this reason, consider using at least one gallon of primer for every two square feet.
Step 8: Painting
Before painting, wait for ideal conditions with the temperature above 4 degrees celsius.
Suppose you can't wait, then you'll have to protect the area from rain.
Note: If you paint in direct sunlight or a humid area, you'll interfere with the drying time and the final finish.
Here are the detailed application procedures:
Mix the paint before application.

Start with a roller or a damp brush.

Consider working with small areas.

When using a sprayer, ensure you spray with a consistent motion.

Create thick coats of paint.

Go for a second coat after allowing the first one to dry thoroughly.
Step 9: Trim Application
If you want the best results on your exterior walls, apply a highly protective durable trim paint on top of the final layer.
The layer will also help provide a darker color for the final finish.
Step 10: General Clean Up
While the final painting is drying, remove all the masking from the walls, doors, windows, and other masked areas.
Afterward, do some proper cleaning on all the surrounding areas.
How Do You Apply Rain or Shine Elastomeric Paint?
If you want color protection for your home, then Rain or Shine elastomeric paint is what you need.
This product is self priming, water based waterproofing paint ideal for your interior and exterior concrete surfaces.
Below is how you can make the proper application.
Step 1: Allow The Fresh Concrete to Cure
If you're working on a new concrete surface, ensure you give it enough curing time ranging between a week and a month.
Doing this will bring the water and alkali to a safe level.
Note: Use a concrete neutralizer to neutralize any excess alkaline.
Step 2: Allow the Surface to Dry
Let the surface dry completely before dusting off any crystalline deposits.
Step 3: Apply the Primer
The next step is applying the anti efflorescence primer. You can use either ROS-8000 Rain or Shine Elasto Proofer or one layer of Rain or Shine Fresco Odourless and Antibacterial paint.
Step 4: Repair Any Imperfection
Here, you'll need to look for any imperfections and repair them with the Rain or Shine Mastic Putty (ROS-3000).
Afterward, allow the surface to dry.
Note: The drying time depends on the wet film thickness of the applied putty and the weather conditions.
Step 5: Painting
Finally, paint the surface by applying Rain or Shine Fresco Odourless and Antibacterial paint (at least coats).
Ensure you allow a dry time of about 2 to 4 hours between coats.
How to Renovate/ Repaint Rain or Shine Elastomeric Paint
If you want to renovate or repaint your Rain or Shine Elastomeric Paint, start removing the peeling or flaking paint. You can do this by sanding the surface and dust off any residue.
The rest of the application process remains the same as I have explained for the new concrete above.
Pro Tip: Never apply this paint type in high humidity. The reason is that heavy moisture content affects the performance of the coating resulting in a poor surface finish.
Does Elastomeric Paint Peel?
Elastomeric paint will only peel if you apply it on a dirty and contaminated surface. Even though it will stretch, the product will not properly adhere due to the contaminants.
Below are the other problems associated with the elastomeric paint.
Cracks may form on your finished surface once you apply the paint on cracked concrete. To avoid this, ensure you seal any cracks and allow the surface to cure before painting.
To avoid peeling, you must adhere to all the curing conditions, such as matching the final dry films with the set film thickness.
If it's necessary to apply another coat after the final one, allow the surface to cure for at least a year.
Note: Don't use solvent based paints for the additional coat.
Besides, if your wall surface has a PH level higher than 9, the mixture will not cure as you expect.
It's nice to note that elastomeric paint has different moisture sealant properties. Thus, consider using paint with a strong moisture barrier if you come from a very dry climate area.
Note: Suppose you use the one with poor water permeability. The moisture will collect and damage the final coating.
How Do I Remove Elastomeric Paint?
For this job, you'll require the following tools:
Pressure washer

Screwdriver

Drywall knife

Utility knife

Chemical paint remover

Paint scraper

Drill with a paint removing abrasive disk
Even though removing this product might be extremely difficult, the following steps will make it a piece of cake for you.
Step 1
First, you'll want to scrape off the paint from the surface. A hand held paint scraping tool or an abrasive paint remover in a drill is right for the job.
Note: It's a very tiresome and difficult task. Hence you can ask for help from friends or relatives.
Step 2
After scraping the surface, peel off the hanging strips with your hands. 
Tip: It will only be easier to pull off large strips if your elastomeric paint has cracked or is old.
For previously painted surfaces, you'll want to use a screwdriver or a drywall knife to make slits and peel off what you can grab.
Step 3
If any remaining paint didn't peel off, consider using a pressure washer to remove them.
Alternatively, you can use a suitable chemical remover.
The necessary steps include rubbing the wall with a brush dipped in the chemical remover. After dissolving the coating, peel them off or use a pressure washer to get rid of them.
Will Elastomeric Roof Coating Stop Leaks?
Yes, these products can effectively seal off the roof leakings to prevent the existing damage from worsening.
The best part is how you can do the application in any season, thanks to the elastomeric durability, among other beneficial properties.
Pro Tip: The formulation in these products forms a strong bond that results in a durable membrane across your roof.
Consider applying the coating with a sprayer if you have drains, equipment anchors, vent pipes, refrigerant, and electrical raceways.
Can You Mix Elastomeric Paint With Latex Paint?
Yes, you can mix elastomeric paint with latex paint since both of the paints are water soluble. For instance, high quality acrylic latex paint will stick to an existing elastomeric coating with ease.
Consequently, if you are making the mixture to change the color, you'll need to mix with a lot of elastomeric paint.
Is Elastomeric Paint Fire Resistant?
Yes, it is. Besides, it offers surface protection from UV radiations, mechanical damage, and bad weather. One aspect of elastomeric paint that makes it fire resistant is the lack of volatile organic compounds in this formula. Paints with such compounds are highly flammable and can cause fire accidents under poor handling.
Is Elastomeric Waterproof?
As stated earlier,  this paint is approximately ten times thicker than standard paint. Thus, it provides a waterproof surface that offers protection from moisture. The "watertight" nature of this formula makes it able to resist the penetration of water and other forms of moisture into surfaces.
Can I Use Elastomeric Paint On Metal?
Yes, since this product has a flexibility property that will allow it to move with the expanding and contracting metal surface. You can apply this formula to rusted or even raw metal surfaces provided that the metal is in a good condition to accept the paint. Overly damaged metals might not be the perfect choice for the formula.
Can I Spray Elastomeric Paint?
Before considering using your regular sprayer with elastomeric paint, you must remember that it is very thick.
For this reason, you need to use a large airless sprayer.
 If you are using an elastomeric roof coating that requires a tip of 40,000 or higher, go for a direct immersion style airless sprayer. 
An example is the Graco 733 or any other similar sprayer.
Can I Thin Elastomeric Paint With Water?
Yes, you can. You only need to make a mixture of at least 4 gallons of the paint and half a gallon of clean water in a 5 gallon bucket.
Afterward, use a wooden stick to stir the mixture in not less than 5 minutes.
What Is the Best Color for Stucco?
I recommend using colors with a light reflective value (LRV). Such colors help reflect the UV radiations, thus enhancing its durability.
Final Thoughts
Up to this point of the article, it's important to note that you can get the best results for your projects when you choose to use elastomeric paint. It has a thickness of up to 10 times that of ordinary paint. Thus it forms a protective layer to prevent the entry of moisture. The only remaining question is…
When Should You Use Elastomeric Paint?
Consider using this paint if you want to prevent crack formation on your projects. It's also ideal for use when durability is key.
With the few points in this article, I want to thank you for taking the time to go through each one of them. For any questions or observations, kindly drop them in the comment section below.