A fresh paint coat can give your old deck a new look and protect it from further weather damage. You need the best deck paint for old wood if you are looking to revive and prolong the life of your deck.
Deck paint delivers superior protection and hides flaws on wood surfaces. Therefore, it enhances the deck's appearance while lengthening its life span.
In addition, the formula makes decks stand out since it is available in multiple colors, and you can blend them to match or contrast your home's exterior.
The best deck paint can withstand harsh environmental conditions, like wind, extreme temperature, blowing dirt, and rain. Keep reading this article to learn more about the formula, the top picks in the market, and the best way to paint your deck.
What Is Deck Paint?
Deck paint is a formula that allows you to transform your deck's appearance in hours. It accommodates subtle pastels or experiments with bright colors. Therefore, you can use it for multiple creative projects.
In addition, the product offers value, the best coverage, and ease of application, meaning that you can use it regardless of being an amateur or a professional. You can also use deck paint to cover a worn-out deck and restore its glory.
Deck paint is either oil-based or water-based. Oil-based deck paint is more visible and requires paint thinner or mineral spirits for cleaning sprays, brushes, and other application accessories.
On the other hand, water-based formulas are more common in workshops, and they are easy to clean up with water and soap.
You can use oil-based products over surfaces with a water-based finish, but it is not advisable to use a water-based formula over an oil-based finish. The latter will result in peeling due to compromised adhesion.
Is It Better to Paint or Stain an Old Deck?
Choosing paint or stain for your old deck depends on various factors. Each strategy helps the wood withstand the ever-changing weather conditions. And it is prudent to consider different reasons for painting or staining the deck.
In addition, there are pros and cons to each technique, and frequently woodworkers wonder which to pick. Here we look at what to expect with each method in various scenarios.
Painting
Deck paint has multiple pros and is a common choice for those repainting their old wooden decks. For one, it is a thick formula, helping to protect the lumber better. And it can even hide blemishes on the surface if you can't get all the flaws out during sanding. 
The paint's thickness makes it a better choice for older decks as it provides excellent coverage for the boards. In addition, the finish lasts longer and enhances the project's life span.
Deck paint is also available in many color options, making it easy to get any hue for your work.
Let's take a closer look at the details.
Pros of Painting Your Deck
The finish is relatively easy to maintain, and you will not have to refinish it anytime soon. In addition, a quality paint project by a trusted professional can last for ten years without repainting.
On the other hand, stains need reapplication every few years as they do not have superior protection against elements.
Deck paint delivers more colors, and you won't have limits on what you can do. It also helps you easily match the deck to the rest of your home's exterior or use the structure to complement the existing colors. 
Many homeowners prefer to paint their exterior spaces as it gives an excellent opportunity to unify your compound. In addition, combining the two projects delivers a striking impression that can last for years.
Painting helps hide flaws in old and weathered wood decks. You may not want to display the wood's every detail, especially if the deck is near the end of its life. So, paint the lumber to keep it looking new.
Cons of Painting Your Deck
Paint traps moisture in the lumber, and it will settle on your horizontal deck, leading to water pooling in specific spaces. In addition, over time, you'll have trapped moisture in the deck, causing chipping and peeling during wood contraction and expansion.
Deck paint conceals the wood's beauty. Hence, painting your wooden deck covers the beautiful elements that make it unique. Also, the strategy is not appropriate if you love the wood's appearance and feel.
Generally, wood paint is permanent. And once you paint the deck, it is almost a given that you will always paint it. Also, please note that it is easy to move from a stain to paint, but it is difficult, expensive, and time-consuming to go from paint to stain.
Staining
Staining also has its pros over paint. The main advantage is that it brings out the wood's natural beauty. The formula allows you to highlight the unique characteristics of the deck while protecting it from the outdoor elements.
Also, stains are easier to work with since you do not need two or three thick layers to get full coverage. In addition, you have a few choices on whether you want a solid, semi-transparent, or transparent finish. They include;
Solid Stains.

The product creates a darker, uniform look and covers most of the wood's natural attributes. They are excellent when the wood has more imperfections or is old.

Semi-transparent Stains. They give some color but allow the lumber's unique attributes and patterns to shine through. In addition, you will enjoy weatherproofing and UV rays protection.
Clear wood preserves.

These stains are probably the best for gorgeous wood decks, like redwood and rich cedar. They preserve the deck's natural color and showcase its beauty. 
In addition, some clear wood preservatives have UV protection to keep the wood from discoloring over time. You can also get one with a fungicide to protect the lumber from mold and mildew.
Unfortunately, staining does not last as long as a quality paint job. Take a closer look at the pros and cons of the strategy to decide if it is right for you.
The Pros of Staining Your Deck
Staining allows you to choose how much of the lumber's grain, color, and texture is visible. Unlike painting, the method does not cover the entire surface with multiple thick, opaque layers. So, you can choose the opacity level from clear to solid colored.
Quality stains soak into the wood grain and seal it. They keep moisture from penetrating the deck and causing it to rot. Generally, a good stain offers better moisture retention abilities than paint.
The right stain and finish will enhance the lumber's beautiful wood grain and highlight the deck's natural qualities. Therefore, you do not have to cover your cedar or cypress wood with an opaque formula.
Usually, stain formulas are less slippery than paint. Also, although some stains are slick, in most cases, they are flatter and give a less slippery surface.
Therefore, you cannot compare them to a thick, quality paint job. But if safety and slippage are a concern for your work, a stain is a better option.
Cons of Staining Your Deck
A stain job will not last more than a few years. In addition, quality and professional paint jobs will last longer than an expert stain job.
And although an oil-based semi-transparent stain can last up to five years, decks need annual restaining annually.
Staining does not fill wood cracks, and thus it is not a recommended strategy for repairing projects. In addition, they are thinner than paint and will not do much filling in splinters and cracks.
Certain top-quality lumber types do not hold stains very well. For instance, tropical hardwoods are perfect for stunningly gorgeous decks, but they are very dense.
Therefore, they cannot soak in the formula well. But, you can opt for an oil-based penetrating formula for your hardwood projects.
The finish does not hide every flaw in the lumber. If your deck is old and weathered, the stain will not make a difference. Here, painting the surface will be a better option.
On top of that, it is prudent to work with professionals to deliver a durable stain job. They will:
Explain all your choices. There are multiple factors to consider when staining a deck, and a professional will give expert, specialized advice on the best way forward.

Prepare the deck for staining. An expert will help adequately clean the wood, whether it is a brand new or older and weathered deck. Older decks need stripping and thorough cleaning to remove dirt, dust, and other residues. 
On the other hand, new decks need cleaning to remove mill scale. In addition, an expert also knows the importance of using a wood brightener to restore the lumber's appearance.
Properly rinse. Chemicals remaining on the wood can break down the stain over time. And professionals know the importance of rising the deck properly after stripping, cleaning, brightening, and preparing the wood for staining.
Ultimately, though, there is no advantage to either staining or painting. It boils down to your tastes and preferences and your project requirements. For instance, an older deck is 
better with paint, while a newer deck is better with a stain.
Factors to Consider When Getting a Stain or Paint
Many woodworkers prefer staining a deck to painting because the finish shows the wood grain and accentuates its natural beauty. In addition, the strategy delivers a more rustic look.
Paint sometimes makes a surface more slippery, particularly when wet. Thus, if you aren't intending to have an outdoor rug or do not want people slipping and falling on the deck, a stain is a better alternative.
Generally, staining takes less time than painting. Therefore, if you want to cover your deck and have it ready for use but don't have all day to do the work, staining will come in handy. In addition, unlike paint, a stain is more forgiving if you miss a spot here or there.
Better and Durable Coverage
While staining a deck takes less time than painting, the latter is often excellent, covering imperfections, filling the cracks, and providing long-lasting protection. Paint is also more resistant to rot and protects the surface from mold and sun damage.
Painting allows you to cover the previous color, whether on a new project or an already painted or stained deck. On the other hand, your options are more limited if you want to stain an already painted or stained deck.
Again, paint wins in the area of cleaning. It is typically easier to wash off dirt from smooth, painted wood than from a rough, stained surface. However, this benefit is only a reality when using good-quality paint.
After painting, you will have to stick with paint for your deck's life. It is much easier to start by staining your wood and then switching later to painting than the other way round.
How Do You Paint a Weathered Wood Deck?
Painting a weathered wood deck is different from working with a brand new one. You will have first to assess its condition and repair all the damage. Otherwise, the paint job will turn out to be a complete disaster.
Below is a detailed procedure to guide you.
Check for any damages and fix them before painting your old deck. Then, repair splintered wood on the surface. Also, assess the footings and pillars to verify that they are in good condition.
Replace damaged or rotted wood boards. Take time to inspect them, looking out for areas with dirt and grass as they decay quickly. In addition, tighten any loose or shifted screws to keep the structure intact.
The railings are also essential for a strong deck; thus, check if they are sturdy and free from rust. Also, repair or replace them immediately once you notice any damages.
Strip down the paint from a previously painted deck. This step is vital, especially when you cannot remember the last stain product you used on the wood. In addition, it prepares the surface for a stain or transparent paint.
It is also advisable to smooth rough surfaces for the best results. Check out some simple tips for this step.
Start With a Wire Brush.

A wire brush is the best accessory for the job as it helps remove loose paint chips. Consider light sweeping strokes over the painted wood to dislodge the loose finish.

Follow Up With a Scraper.

Paint scrapers come in two types; curved scrapers and flat scrapers. The blade on a curved scraper has a gentle arc and works by pulling rather than pushing. 
On the other hand, flat scrapers function like putty knives and work by positioning the blade at a lower angle with the decking. Therefore, it gives the wood light pushes while slipping beneath paint chips.
Sand the Surface.

Scrapping does not remove all the paint from the deck. Thus, it is advisable to scrape away loose paint. Sometimes the wood may still have large areas of stuck-on finish. But this is not a problem if the paint is not peeling.
Nonetheless, sanding is still essential to smooth out the surface and edges between stuck-on paint and raw lumber. In addition, you can get a power sander to hasten the process or get a sanding sponge for a smoother surface.
The next step is to clean the deck. A wood cleaner can do the job, but it's better with a power washer. The appliance helps clean built-up dirt from the decking boards.
Clean the deck board by spraying and pay close attention to high traffic spaces, like pathways and stairs. Wash any boards near the garden as they are more susceptible to accumulating dust and dirt.
Even if it is a new deck, ensure it is clean before applying the paint. Then, brush the surface with a utility broom and rinse thoroughly. Deck-cleaning products are readily available, and you can spray them on using a garden hose dispenser.
You can consider the following for washing the deck.
Deck cleaners.

A general, all-purpose deck cleaning product is ideal for washing a weathered deck. It easily removes dirt, grime, and debris, leaving the surface ready to absorb the paint.
However, if you want to stain the surface, check whether the manufacturer recommends a specific deck cleaner.
Brighteners.

A brightening cleaner is excellent for grayed and uneven, unpainted wood decking. It helps remove discrepancies and stains showing through the new finish.
In addition, the product has a wood bleaching component to lighten dark splotches.
Mold and mildew.

Get a cleaner with a mildewcide if you find any mold or mildew on the deck.
NB: Although power washers are excellent for blasting away debris and dirt, the powerful jet of water can dig up wood chunks out of the deck. Therefore, please be careful while using the appliance or consider getting a garden hose with a jet nozzle.
Priming is a vital step in painting, but it is also a choice. However, it is better to prime your wood if you want to use the deck for a longer duration. In addition, the strategy helps fill porous surfaces for a successful painting experience.
If you have more damaged decking boards, it would be best to prime them as it regulates paint coverage. However, you can skip the priming process when using a stain for your final coat.
Apply painter's or masking tape to adjacent parts of the garage or house before opening the paint can. This step is a minimum one compared to all the preparation work above but can compromise your work if you skip it.
In addition, the exercise helps you to avoid spilling paint accidentally on other areas around the deck.
The tools needed to apply the finish include rollers and brushes. Rollers are the best paint applicants as they speed up the painting process and give a uniform paint coat. You can also connect it to an extension pole and paint while standing.
It is prudent to have some brushes within reach for painting restricted areas, like deck railing and places the roller cannot fit.
Do not forget the deck's underside. Paint all the deck board sides to protect the wood structure from moisture and enhance the paint's longevity. This exercise is more vital in areas with high humidity and heavy rains.
Best Deck Paint for Old Wood
This section focuses on the best deck paint you can use for your work. Also, you will find a detailed buyer's guide on some factors to consider before settling on a product.
KILZ L573611 Latex Floor Paint
KILZ L573611 paint delivers a low-luster enamel finish that endures on the porch, deck, patio siding, and floor through variable environmental conditions. It is also resistant to scuffing, cracking, fading, and peeling, making it highly durable.
The floor paint is suitable for all previously primed, stained, or painted surfaces, including masonry, metal, and wood. In addition, you can use it on multiple projects, like siding, trim, and trellises.
KILZ enamel formula gives smooth and even Silver Gray surfaces. It dries in one hour and allows you to recoat the wood in four to six hours. Also, once you apply it correctly, there won't be a need for future repainting, saving you energy, time, and resources.
This durable acrylic wood formula dries into a mold-resistant film that withstands adverse weather conditions. So, you can apply it on patios, decks, and porches without worrying about the climate.
KILZ comes in a one-gallon can, and you can apply it using a sprayer, a quality ⅜ to ½ -inch roller, or a polyester/nylon brush. The formula can also cover a 400 square feet area on smooth lumber and a 300 square feet area on rough surfaces.
Lastly, the paint ranks highly, and the brand has taken pride in offering quality patio deck paint for 40 years. Therefore, you can be sure of a fantastic result.
Pros
The formula is a durable product, resistant to peeling, fading, and scuffing even in harsh conditions.

It delivers a low-luster surface.

KILZ is the best paint for previously painted decks.

You can apply it on multiple surfaces, including sidings, porches, and floors.

The product is easy to use with a quality brush, roller, or spray.

It covers a significant area of 300 to 400 square feet.
Cons
The finish gets clearer as it dries.

Users complain about contrasting colors after applying the paint on patios.
Check Latest Price
Montage Signature Interior/Exterior Paint
Montage Signature is a top choice for all your professional painting projects, whether small residential spaces or large commercial buildings. You can also use it for interior and exterior spaces and expect a lasting product.
The product is eco-friendly as the manufacturer commits to the highest pollutant-free and most environmentally friendly materials. It is water-based and has low VOCs, making it suitable for indoor use.
In addition, the paint undergoes rigorous engineering and testing processes to ensure that it meets all expected standards. It also resists mold, mildew, and harmful UV rays.
Montage Signature is available in 18 pleasing gray hues with earthly undertones. Thus, you are sure of getting an excellent fit for your deck. On top of that, you can cover up to 300 square feet of outdoor or indoor surfaces.
This exterior paint offers superior coverage while allowing you to brush smoothly and uniformly. Also, the formula's improved sealing technology allows for easy cleaning and maximum protection from water issues.
You will enjoy a ten-year warranty, adding Montage Signature to your list of reliable painting products. In addition, the paint thrives in the American economy and is consistent with the people's integrity.
Pros
The formula is highly versatile and appropriate for multiple projects.

It is environmentally friendly with low VOCs.

Montage Signature delivers superior protection against water, mold, mildew, and UV rays.

You can choose from 18 incredible gray tones.

The paint offers maximum coverage of up to 300 square feet.

It has a ten-year warranty, making it a reliable product.
Cons
The paint is not suitable for areas with constant moisture exposure.
Check Latest Price
#1 Deck Wood Deck Paint and Sealer
Unlike many deck paints, #1 Deck Wood Deck Paint and Sealer is not just a cheap house paint. Instead, it features the latest technology that lasts longer and resists graying, fading, and peeling.
In addition, the paint will adhere properly to a previously stained surface. But the finish should have attached well to the wood. This way, you are sure that the new coat will not peel off later.
You will find the product in six lovely, solid color finishes that dry to deliver a flat and natural finish. Therefore, you have various options to play around with to match or complement your landscape.
#1 Deck Wood Deck Paint and Sealer is user-friendly as it is easy to clean up with soap and water, works for both vertical and horizontal surfaces, and has a low odor and fewer VOCs.
Pros
The paint is perfect for multiple surfaces, including pressure-treated wood, cedar, fir, and mahogany.

It has a low odor and fewer VOCs.

You can choose from six beautiful, solid hues.

The finish dries to give a flat, natural-looking surface.

It hides the wood grain of old wood.

Your deck will enjoy maximum protection from harmful UV rays.

#1 deck works both as a stain and sealer.

It is suitable for prestained wood surfaces.
Cons
When using an airless paint sprayer, you may not meet the stipulated coverage area.
Check Latest Price
TotalBoat TotalTread
Toatalboat TotalTread is a non-skid deck formula that delivers a textured, durable, low-glare high-traction finish. It also features a comfortable, rubberized texture that is less abrasive than most traditional silica additives. Therefore, you enjoy a comfortable and secure footing.
In addition, since the paint guarantees you sure footing, you can use it on multiple surfaces, including docks, boat decks, steps, stairs, cabin soles, patios, floors, concrete, swim platforms, and gunwales.
Your wooden deck is more likely to wear out with UV rays, foot traffic, and extreme weather conditions exposure. But you do not have to worry as the formula delivers a durable coating that will not peel or fade, despite harsh outdoor situations.
Also, it comes in handy to prevent damages from rain, spray, spills, dew, or excessive use of a washdown hose.
This paint is a perfect solution for your damaged deck, and you can apply it with ease and convenience using a paint roller or brush.
Moreover, you can use these accessories on wood, fiberglass, metals, properly primed aluminum, and previously painted surfaces. And expect a professional finish.
Simply strip off the old paint and blend it adequately before application for a uniform textured finish. Besides, the non-abrasive formula is anti-slip, so you are guaranteed maximum safety. It also delivers superior traction and prevents particles from clogging.
The TotalTread bonds hold the finish excellently as they consist of wax texturing agents like polyurethane and propyltex. In addition, you only need two layers for a firm grip and three coats for a more aggressive hold.
Finally, various finish colors are available, giving you the freedom to choose whichever is more suitable for your work. But it is prudent to ensure that you select a tone that matches or compliments your surroundings.
Pros
The paint has non-slip attributes.

It comes in multiple tones to accommodate various projects.

TotalBoat TotalTread dries up quickly and is easy to apply.

You can use it for numerous surfaces such as docks, cabin soles, wood decks, patios, and floors.

This formula delivers a long-lasting finish.

It is available in gallons and quarts.
Cons
The product can hold dirt and mildew.
Check Latest Price
Rust-Oleum 206999 Topside Paint
Rust-Oleum is suitable for wood, fiberglass, and metal surfaces as it is flexible and easy to apply. In addition, the finish levels well to cover up to 100 square feet and then dries to the touch within two hours.
The formula delivers a durable coating, resisting abrasion, extreme environmental conditions, and harsh UV rays. Thus, you can enjoy the finish for a longer duration. You will also enjoy superior gloss retention that helps maintain the wood's beauty and elegance.
Besides, you will love the smooth surface and luster finish, which significantly restores and revives the deck area.
This product comes in gray, green, sand beige, and all forms of white, giving you the liberty to be creative when matching colors. Also, since the paint is oil-based, you can expect enhanced application and excellent leveling characteristics.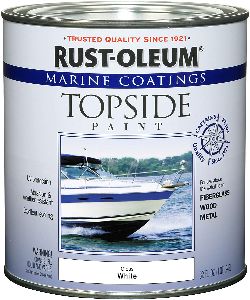 Pros
The product rolls down quickly and uniformly.

It is simple to apply with a roller.

You can use the formula on various surfaces, including metal, wood, and fiberglass.

Rust-Oleum creates an anti-scratch, resistant coating.

It features UV rays resistance, keeping the finish from discoloring.

The oil-based paint works excellently in reviving old weathered decks.

It is in a wide color range, including all-white hue variations.
Cons
Users complain that the finish peels off easily after a few weeks.

The finish loses luster, and the color can turn grayish six months after application.
Check Latest Price
Thompson's Waterseal TH.043841-16
Thompson's brand has a well-deserved reputation as it identifies with emerging technologies and industry trends. In addition, it is a veteran in the sealing and paint space, emphasizing water damage resistance.
Thompson's Waterseal TH.043841-16 is one of the company's products. It is available in six hues; Marple brown, woodland cedar, sequoia red, coastal gray, harvest gold, and acorn brown. It also adds a finishing touch to old weathered decks, restoring their elegant look. 
The paint boosts the wood's longevity and makes it visually appealing. It also gives the deck superior protection from mildew and UV rays and has advanced polymers, making the shade more fade resistant.
You can apply the formula to damp or dry lumber, whichever is convenient. Also, the stain dries to the touch within two hours. Therefore, you won't have to wait longer to use your deck.
The best part is that you can apply a single paint layer and expect it to last up to five years before thinking of a repaint. This single coating can go up to 15 years on a fence.
Pros
The paint can work on either damp or dry wood.

It comes in six solid colors, including golden and Marple.

You can use it for over 400 square feet.

Thompson's Waterseal offers superior protection against UV rays and mildew.

It features advanced polymers, showing resistance to fading.
Cons
The finish becomes highly slippery when wet, exposing users to sliding over after raining.

Users complain that it shows peeling and flaking signs in less than a year.
Check Latest Price
FIX ALL Skid Grip Anti-Slip Paint
FIX ALL Skid Grip paint is an acrylic textured formula that makes surfaces skid-resistant. Hence, it is the perfect solution for busy, high-traffic wood decks needing an extra protection layer. Add it to your basketball court, step, pool deck, driveway, patio, playground, or a ramp to prevent falls.
Liquid skid grip works on almost any surface, whether for home or commercial use. It adheres to cement, asphalt, wood, stone, and more, allowing you to work on multiple applications.
The formula is easy to apply. First, clean the wood thoroughly to remove dirt and debris, and then use a roller or brush to create the desired texture. Next, allow the project ample time to dry.
Skid Grip Anti-Slip paint is an effective way to enhance your project's landscape. It keeps your textured surface from becoming an eyesore as it comes in seven colors; cobalt, camel, emerald, plane, jet, crimson, and slate.
Therefore, you have enough options for your color scheme or design style.
The 100% acrylic resin product delivers increased performance with reduced flaking and peeling. It also reduces oxidation and features superior adhesion, keeping your anti-slip deck surface new for years to come.
Clean-up is straightforward as you only need soap and water for the best result. In addition, one paint gallon covers up to 80 square feet of wood materials, depending on the porosity levels.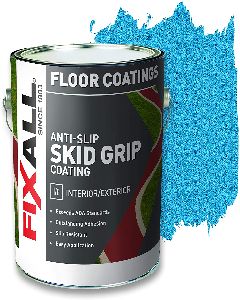 Pros
The paint is 100% pure acrylic.

It delivers a slip and slide-resistant deck.

You will enjoy superior wood adhesion on almost all wood surfaces.

FIX ALL Skid Grip is color fade resistant.

It gives a durable coating for interior and exterior surfaces.

There are multiple hues to choose from to accommodate various project preferences.
Cons
Users complain that the manufacturer's instructions are hard to follow.
Check Latest Price
INSL-X SU092209A Coating Paint
INSL-X is one of the reputable primers and paints brands. It manufactures many formulas, like the INSL-X SU092209A Coating Paint, to keep your surfaces safe. In other words, the finish prevents skids and prevents accidents.
In addition, the paint resists abrasion, ensuring that the surface has the ideal texture. It protects your feet from abrasive surfaces and is thus, suitable for walkways, stairs, and patios.
You will find the paint in eight different color tones; tile red, light gray, saddle brown, white, gray pearl, saddle, desert sand, and pine green. Hence, you have multiple choices for your applications, whether neutral or transparent shades.
This formula is excellent for filling up gaps and sealing weathered deck wood. Also, it takes a short time to dry to the touch. So, you will not wait long before resuming deck use. But please avoid using the product when rain is threatening.
Pros
The product is anti-slip and appropriate for both indoor and outdoor surfaces.

It dies to fill and seal any cracks and gaps on your old weathered deck.

You can choose from eight color tones.

INSL-X SU092209A is abrasion resistant, delivering a smooth surface.

It is easy to apply.

You can cover 80 to 120 square feet with a gallon.
Cons
Users complain that the finish does not adhere properly to the surface.
Check Latest Price
Rust-Oleum 319176 RockSolid 20X Deck Resurfacer
Rust-Oleum 319176 is an excellent formula for updating and restoring heavily worn-out and weathered patio and deck surfaces, including broom-swept concrete patios, wood decks, and most composite decks.
It boasts advanced technology, assuring you of superior water resistance, excellent adhesion, and waterproofing protection.
The paint features a durable coating 20 times thicker than regular paint. Thus, it perfectly repairs minor surface defects and fills gaps up to ¼ inch deep. In addition, you can cover up to 40 square feet with one gallon as one coat is sufficient for light furniture or foot traffic.
This formula features a textured finish with a matte look without being too unrealistic-looking or distracting. However, you need to clean and prime the wood for a lasting surface.
Pros
The product is ideal for old, worn-out patios and decks.

It is 20x thicker to give maximum durability.

Your surface will enjoy superior weather resistance and waterproofing.

Rust-Oleum 319176 fills ¼ inch cracks.

It comes in 60 different colors.
Cons
You can only use the paint on horizontal surfaces.
Check Latest Price
RTG Deck, Porch, & Patio Anti-Slip Paint 
RTG Deck, Porch, & Patio Anti-Slip delivers a lovely finish and secure footing on outdoor surfaces that can become slippery when wet.
In addition, the paint's traction additive is less abrasive and suitable for porches, ramps, stairs, decks, and patios, making it ideal for bare feet and tender paws.
The formula revives and protects the surface from the hot sun, slushy snow, kids, driving rain, pets, and heavy foot traffic without flaking, peeling, or fading. Its scuff-resistance attributes and solid coverage allow you to rearrange objects and furniture as you deem fit.
Therefore, no more parking chairs and rugs in the same spots to hide the deck's imperfections. And you can maximize your creativity and move things around to create a comfortable and cozy feel.
You will find the paint in four inviting neutral hues; rich, clear/amber, light gray, sand, or white. Choose one color that complements your compound, or be creative and have multi-toned diamonds or other designs.
This fast-drying, user-friendly product is easy to apply with a roller or brush and cleans up easily with water and soap. In addition, it is environmentally friendly, has low VOCs and slight odor, and is ideal for both interior and exterior spaces.
Pros
The formula is fast-drying and textured.

It is perfect for multiple surfaces.

You can easily apply it with a brush or roller.

RTG paint delivers a durable coating and withstands harsh weather and heavy foot traffic.

It is less abrasive than other anti-slip coatings.

The product comes in four neutral colors.
Cons
RTG formula is thick, and you need more than needed for general paint coverage.

It is more pricey than other paints.
Check Latest Price
Buyers' Guide Section
The above paint products are all suitable for most deck painting projects, and it is up to you to choose the best for your project. Therefore, you would have to know some essential features and attributes to check out when getting the product.
This next section gives you tips to help you get your dream product.
What to Consider Before Buying Best Deck Paint for Old Wood
Here are some of the considerations to make when buying deck stain for pressure treated wood.
Horizontal and Vertical Surfaces
Choosing the best paint for old and weathered lumber can be difficult, especially when working with vertical surfaces. But outdoor paint withstands harsh elements when you apply them to vertical surfaces. So, it is a plus.
On the other hand, ensure you pick a paint suitable for horizontal surfaces when working with old deck products. The formula should indicate its appropriateness for exterior use or flat surfaces.
The Thickness of the Paint Coat
Most painting formulas vary in thickness, and failing to check the specifications may result in disappointment. Therefore, check the coating's thickness before purchasing the deck paint.
Paints with 4, 10, and 20 labels are thicker than standard paint. Also, please note that this thickness is essential when hiding bubbles, cracks, and scuffs. So, doing your due diligence facilitates a professional result.
However, remember that thick deck paints have their drawbacks. For instance, they are more challenging to apply than regular formulas. So, you'll need more brushes to work effectively.
Most paint brands have multiple colors you can choose from, regardless of whether you are working on wood surfaces or concrete materials. For instance, the Rust-Oleum brand gives its users over 60 color shades in standard and textured finishes. 
Conversely, the Anvil brand has fewer hues to choose from, but it features one of the best color retentions. Therefore, it is up to you to decide what's suitable for the project before purchasing a finish.
Also, please avoid choosing colors that clash with the deck's nearby landscaping. It is advisable to get a color wheel to help you select the most suitable color.
Generally, most deck formulas are easy to use because they dry quickly and deliver uniform coverage. Also, they come with second coat provisions on the third and fourth day after the first coat application.
However, the ease of application depends on the existing weather conditions and the preparation level. Therefore, ensure that you follow the recommended surface preparation and paint application procedures for an easy time.
Clear all substances, including grease, stain, debris, and dirt, from the surface to ensure proper adhesion. In addition, consider working when temperatures range between 50 and 90 degrees.
You can purchase more deck paint than you need, leading to wastage, or buy less formula and halt the project. Hence, it is easier to consider the area coverage per gallon to help get the right amount.
Fortunately, many reputable brands specify the area covered by a gallon, making it easy to determine the amount needed. For instance, a 4x restoration paint covers about 80 square feet. But the coverage reduces for thicker counterparts like 10x and 20x.
Type of Exterior Deck Paint
Another critical consideration when choosing deck paints for old lumber is the formula type: acrylic, water-based, or oil-based.
Most deck paints are 100% acrylic, meaning they minimize the likelihood of wood cracking in extreme temperatures. It makes a lot of sense to have this finish in areas with higher temperature levels.
Oil-based paints last longer, are shiny and withstand extreme temperatures and conditions. On the other hand, water-based formulas may not work in such scenarios but are equally good in normal conditions. Therefore, it boils down to your project needs. 
Paint finishes vary depending on the ingredients in the formula, and they include:
Satin.

This sheen is the best for outdoor wood because of its low luster. In addition, it hides a lot of lumber flaws and is easy to maintain by sweeping the surface.

Eggshell.

The finish comprises a ten percent shine and gives a soft, pleasant surface. Its low luster also helps conceal deck flaws, but it is better to use it in enclosed decks away from wind and dust. Otherwise, the surface will accumulate dirt quickly.

Semi-Gloss.

Another easy-to-maintain surface is the semi-gloss finish. The sheen is suitable for shutters, doors, and trim doors. You can also refer to it as enamel, and it has 70% sheen.

High Gloss.

This sheen consists of 85% luster and is pretty easy to maintain as dirt blows off on its own. In addition, the finish helps highlight the wood's natural beauty, making it excellent for new decks.

Wood Type
Redwood and cedar are naturally resistant to moisture and insect damage. However, they are often more pricey than the rest. So, most exterior wood comes from chemically treated wood to keep it from rotting.
You can paint raw wood right away, but it is advisable to wait at least six months before painting a treated lumber deck. This way, you allow the chemicals to evaporate.
Name the Best Deck Paint Brand and Why
It is no secret that the right brand is all you need to revive your old deck. Here are some of the top paint brands to consider.
This global leader in the home building industry provides quality paint for commercial and residential applications. In addition, it is a customer-focused and innovative business, offering superior deck formula at competitive prices.
This brand is a household name in the primer and paint industry. It believes that you only need one formula when painting wooden surfaces. Therefore, it has paint and primer attributes in one product.
The company is famous for its durability and quality finishes, and KILZ paints are excellent for sealing wood furniture and decks. In addition, it uses a tear-resistant ingredient to deliver superior coverage on rough surfaces.
If you need a fresh paint coat for your patio or wooden deck, the company has the perfect shade. The formula is like armor for metal, vinyl, and wood surfaces and makes them fade-resistant, easy to use, and durable.
This brand is trusted and reliable as it has been around for nearly 100 years. The company's paints are suitable for any exterior wood surface, thanks to its specialty in protective finishes. In addition, you will get high-quality paint perfect for both residential and commercial applications.
Frequently Asked Questions
Some of the most asked questions are:
How Do You Prepare Old Deck for Painting?
Although you will follow the same deck preparation process whether you are working with old or new wood, there are a few extra steps for an old deck.
For one, there are multiple imperfections in aged lumber, such as splits, chips, and dents. Therefore, you need to use a wood filler for these blemishes before priming.
Please note that any imperfections on the bare wood will show through your paint. In addition, painting cracked, chipped, and unsanded lumber leads to a very short-lived product.
The first step is to wash the deck boards to eliminate any debris, whether they are new or old. Also, remove all grills, furniture, and planets on the surface to allow you thoroughly sweep the deck.
The other step is to sand the surface to clear old stains, paint, and other residues. In addition, sand out any grooves and blemishes. But ensure that you move in the grain direction, not against it.
After sanding, remember to clean the deck boards to remove wood shavings and debris. This way, you ensure that the primer sticks to the surface properly. Also, consider using a deck washing solution and a pressure washer for a better outcome.
Allow the deck to dry and then prime it. 
Do I Need to Prime My Old Deck Before Painting?
Priming is vital with wooden surfaces as they are porous and absorb liquids easily. In addition, the grain is not evenly porous, leading to uneven coverage.
The primer also ensures that the paint finish adheres tightly to the surface, preventing bubbling, peeling, or blistering on the new paint job.
It is advisable to cover all the board sides as they get a lot of moisture and temperature change exposure. These changes force them to expand and contract, wearing down the finish faster.
Can You Paint Over Old Deck Paint?
It is possible to paint over old deck paint, but there are some essential tips to remember. First, you can easily paint over an old semi-transparent stain without stripping. But you may want to freshen up the lumber by sanding.
Conversely, you'll have to remove all old paint when staining it with a semi-transparent natural stain. These stains do not cover the deck as paints do, and thus, it is best to work on stripped raw lumber.
It is more challenging to move from a previously painted surface to a semi-transparent natural deck stain than to paint stained wood. Besides, it is best to remain with the same stain type over a long period, then repaint or restain.
Why Is Paint Peeling Off My Deck?
Paint peels off because of poor surface preparation. The correct procedure includes thorough washing, drying, sanding, priming, and painting. So, if you do a sloppy job or skip the above steps, the finish will come off sooner than expected.
Using low paint quality is another cause of a peeling finish. In addition, inferior products will fail with constant exposure to harsh weather conditions. Therefore, please check the paint's ingredients and choose a superior brand.
The painting method will make or destroy your deck finish. The first layer should always be light and even, and you should allow the surface to dry thoroughly before having subsequent coats. Otherwise, a poor painting technique will lead to a peeling finish.
Finally, the paint will peel and fall off if you paint wet deck wood. In addition, the new deck finish will not hold up if there is excessive moisture exposure.
How Do You Sand a Painted Deck?
Follow the recommended preparation steps before sanding a painted deck. Then, rinse the surface and wait for it to dry. In some cases, you may need to use a cleaner or chemical brightener for gray, old, or stained wood.
There are multiple sanding accessories to use, depending on your preference and project needs. For instance, we have power sanders in many forms, from commercial upright rental sanders you can lease from rental outlets and home improvement centers to standard orbital sanders.
Most homeowners prefer using an ordinary hand power sander, though you need patience when working with a large deck.
Also, wood decks are often soft-wood species, and thus, belt sanders, whether large uprights or handheld models, may gouge the lumber. So, it is best to use a random or oscillating orbit sander.
Ensure that the deck dries thoroughly before sanding. Hence, wait for several days if there has been recent rainfall in your area. In addition, treat the deck railings, board edges, and entire surface, then use appropriate sanding strategies for each.
Finally, wear safety glasses and a particle mask as wood dust poses health risks. Also, you can consider hearing protectors and knee pads to facilitate a safer and more comfortable working session.
How Do You Keep Paint from Coming Off Decking?
You can keep paint from coming off your deck by adhering to the recommended deck preparation and formula application strategies. In addition, ensure that you get the correct painting and cleaning supplies for a better outcome.
It is also wise to wait for the first paint coat to dry to the touch before adding subsequent layers. This way, the top layer will hold better on the surface.
Priming the surface is another technique that keeps the paint on the deck for long. Since lumber is porous, you'll have uneven coverage, leading to poor paint adhesion. So, it would be best to use a primer to fill the grain and help the paint finish adhere to the surface.
On top of that, use the most suitable paint type for your project. For instance, consider an oil-based formula for outdoor surfaces or wood with constant exposure to harsh weather conditions.
Conclusion
Deck paint for old lumber is a perfect alternative to replacing the structure. The formula lets you seal down splinters and protect the wood from further fading and moisture damage. In addition, selecting the most suitable finish does not have to be a nightmare, as this article discusses:
Best Deck Paint for Old Wood
Although you can work with any product in this review, my top pick is KILZ L573611 Latex Floor Paint. It features a longer life span and is scratch and fade resistant. In addition, you can apply it on previously primed, stained, or painted surfaces.