Can you spray paint canvas? Yes, you can paint a giant canvas background in 2 minutes!! Sounds too good to be true, huh?

Please read on for more insight on today's subject of discussion…
Artworking started several centuries ago. The old artists performed the arts on materials such as stones and in caves.
Thanks to advancing technology, today, people use materials such as canvas to do artistic works.
Most of them prefer painting on it while stretched across a wooden frame.
So today's question is can you spray paint Canvas?
Yes! Spray paint easily glides over canvas to give it a smooth look!
Spray painting is the best method of painting on canvas.
However, most of these materials are pretty absorbent.
Meaning, if paint settles at one point, your canvas will over-absorb and may cause leaking of spray paint to the other areas.
Therefore, spray painting on canvas ensures you achieve an even distribution over the entire surface.
What Is Spray Paint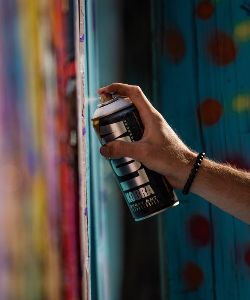 Spray paint, also known as aerosol paint, is paint available in a sealed, pressurized container and released through an aerosol spray when you depress the valve button. 
Spray paint will leave your surface smooth and even, unlike many traditional painting methods like rolling and brushing.
The standard-sized cans of spray paints are portable, inexpensive, and easy to store. 
Graffiti artists and painters use spray paint as the medium is quick, permanent, and portable.
 The origin of spray paint, however, dates back to 1949, when it was created to apply aluminum paint coatings to radiators.
How Do You Spray On Canvas?
Do you want the best results when using spray paint on canvas?
Then the below steps are all you need to follow.
Step 1:
You'll start by gathering all the tools you require for the job.
Some include spray paint, canvas, a palette knife, and a plastic bag (or clean rag).
Step 2
Choose an art, depending on your preference.
For instance, if you want to paint a planet, place a circular container on the canvas before you paint. 
Next, spray paint over the piece, then remove it to get the shape of your desired image.
Afterward, lightly spray over the area left by the removed art. 
Ensure you don't do it directly (it's best to do the spraying at an angle).
Continue the process at the same spot until you get a glossy finish.
Step 3
Consider using different spray paint colors to create additional effects.
Step 4
Using a clean nylon bag, cover the painted area, then remove the bag immediately.
You'll realize some strips formed over the place.
Add extra paint and let it dry for at least 15 to 10 seconds, then repeat the same procedure of passing a nylon paper or a dry piece of cloth on the surface.
Step 5
Return the circular container to the painted surface and spray paint the rest of the canvas.
Let the surface dry, and add more paint colors to achieve your specifications.
Note: It's not a must to use a piece of an object, as we've done above.
You can use different spray paints to get outstanding results (put your creativity to use).
Here's a Video On How to Spray Paint On Canvas:
Does Spray Paint Crack on Canvas?
Yes, it can crack under the following circumstances:
Temperature variations – when you do the spray painting in very hot conditions, it's likely that the solvent will evaporate from the paint.
If this happens, it will wrinkle up and crack.
On the other hand, if the temperature is extremely cold, it will affect how the paint will adhere to the surface.
Suppose you spray too much paint on the material.
It won't allow enough time for the paint underneath to dry, even though the one on top is already dried. 
The underneath layer will move in an attempt to dry, thus causing cracks on the upper surface.
Mixing paints can also cause cracks on your canvas. The reason is that not all of them have the same drying time. 
Therefore, if one type dries before the other, the results will be crack formation.
Besides, you should ensure the surface is free from debris before you start spraying.
Should You Paint a Canvas White First?
No, I don't recommend painting your canvas white first.
But why? White is the brightest and purest color on your canvas.
Due to its brightness, this color can quickly alter the perception of the other colors you'll use on your canvas.
It will make them appear duller than how they should be.
Tip: It's advisable to start painting with thinner layers before working your way to thicker applications. 
Doing this will prevent your paint from covering the texture bumps on your canvas.
If you had painted your canvas white before, this is when you'll realize your mistake since the white stark will shine through the paint.
Under such conditions, you might end up adding extra layers of paint to cover the spots fully.
It can lead to frustrations and bad color choices.
But what if you have a white canvas?
Consider covering the surface with one solid paint color (toned ground).
Doing this will enable you to avoid the above mistakes and make your painting look more professional.
The colored background will also increase your working speed and provide a fool-proof method of creating a tonal mood.
Note: You should apply the toned ground after priming your canvas with gesso, especially when working on a raw canvas.
What Canvas Is Good for Spray Paint?
I recommend using your spray paint on Linen canvas. This material is renowned for its high-quality surface, ideal for fine arts.
You'll realize that it has a darker appearance. Therefore, it's good to start by priming for the colors to show clearly.
For this material, consider using acrylic gesso primer. It also boasts a much finer weave.
Additionally, it comes as portrait linen which is among the finest. Such material is suitable for use when you don't want texture.
Suppose you are on a budget. Consider other canvas types
 like:
These types are ideal since you can directly paint on them without priming.
However, painting on the upper side of this material is not easy.
But it will be pretty straightforward on the downside since spray painting will quickly degrade the threads than on a primed canvas.
Tip: Spray paint will tend to soak in more rapidly, thus allowing for slight bleeding.
These types are more economical than linen. However, since most have a deeper tone, I recommend priming the surface before painting.
If you are on a budget, you can use a cheaper primer such as the White House Paint (it won't be permanent).
Note: Jute and Textured canvas have quite noticeable textures.
If you want a quick and more straightforward choice of canvas, consider going for the synthetic one.
The material is more affordable than professional canvases.
It comes pre-primed; hence no need for priming. You'll also find it as a blend of cotton.
Not only that, but also some of them come integrated with grommets in a pre-cut piece, making them ideal for signage.
Do You Need to Prime Canvas for Spray Paint?
As seen above, some canvas types require priming before painting, while others, like synthetic canvas, come pre-primed.
Primarily, priming will help achieve the correct texture for the paint to adhere to and retain its vibrant color.
How Do I Paint a Canvas Like a Pro?
Below are the different painting tips on how you can do the painting on canvas like a pro.
You can apply the paint directly to your canvas with a dry brush for the best results.
Ensure you create vibrant color strokes with uneven edges. 
Doing this will let your painting have a good texture and dimensions.
I suggest using this method to create unique effects such as blades of grass, back waves, soft fluffy clouds, and an impression of grains of sand, among others.
That's not all since dry brushing can also add highlights to an underpainting.
You can use a palette knife to get thick, lively strokes. Such results can have varying color, value, and height.
The most important thing about this technique is that it's straightforward, even for beginners.
Using the palette knife is as easy as scraping a bit of paint and applying it to the surface.
Here, you'll need a palette for scooping up the paint. Afterward, dribble some water into the paint and stir till you get a runny mixture. 
Using a paintbrush, spread the watery paint onto your canvas until you get a thin transparent layer.
Tip: Adding water to your paint makes it feel like watercolor.
Therefore, you can use it for spreading translucent layers with a watercolor appearance.
Pro tip: Combining the drybrush and watercolor method will leave the surface with abundant textures.  
Using a stiff paintbrush, dip it into your paint or a mixture of colors.
Then hold the brush perpendicularly to your canvas and create tiny dots adjacent.
Doing this will give you texture and dimensions with distinct variations in your final painting.
Note: It's easy to create various shadings depending on how close and bold you make the dots.
Learning this method will enable you to be a professional in forming three-dimensional effects.
Tip: You start from the background layer and build it, allowing the previous layers to dry before adding the next one.
Here, you'll need a wet paintbrush to dip into your paint. Then splatter or flick over your canvas to get an uneven splatter effect.
Tip: If you want to work first and efficiently, consider thinning the paint with a flow medium or water.
Alternatively, dripping the paint from above can also work.
If you want clean and vivid hues, allow the colors to dry between the spatters.
With this technique, you can get abstract landscape painting if you do the splattering right.
Do you want to add depth to your artwork? Then consider applying a pure transparent glaze with your paint.
Using this method will allow you to create a rich, luminous hue. It will also let you modify or tone down the previous color.
Additionally, you can mix a medium with your paint to get a matte effect.
Adding texture to your artwork is easy with dabbing. I suggest using a piece of paper towel or sponge to dab the colors on your canvas.
Consider using this technique to get a more depth painting by dabbing consistent layers ranging from dark to light.
Tip: It's ideal for creating foliage and flowers.
To be a pro in painting canvas, you must be creative with mixing colors.
The process is as easy as combining the colors and swirling them up.
Alternatively, you can go for partially mixed colors but ensure you swirl before using.
With such a mixture, you rest assured of fantastic mingling colors.
Bonus tip: The more pigments in your load colors, the better the texture of your artwork.
Suppose you prefer using this method. First, you'll have to do the mixing with a pouring medium.
Then, after mixing, use a container to pour the paint onto your canvas directly.
Tip: Tilting the canvas into different angles will help you easily manipulate the pouring paint to create more effects.
Before the paint dries, you can create different effects by swiping it with a palette knife.
Note: Make your work more manageable by using pre-mixed paint colors.
Can I Use Rustoleum On Canvas?
Yes, you can use Rustoleum on canvas since it provides long-lasting protection and beauty in various colors and finishes.
Rust-Oleum Shield H2O™ Boot & Shoe, in particular, works best on canvas, leather, suede, nubuck, and more.
Rust-Oleum advises that you test the product in an inconspicuous area of your canvas before treating the whole surface.
The product is also chip and fading-resistant.
You'll love using Rustoleum on your canvas because it dries to touch between 2 – 4 hours.
With this item, you rest assured of a glossy finish with a fresh shine.
Check Latest Price
Can You Paint On Unstretched Canvas?
Absolutely! It even becomes easier if you are using a pre-primed canvas.
Here are the tips for painting on an unstretched canvas.
Not all canvas materials are ideal for painting without priming. Therefore, I suggest using linen or cotton canvas. 
Suppose your canvas is not pre-primed. You can do the priming yourself by coating it with rabbit skin glue and oil primer. 
What if you choose to paint with acrylics? Here, you'll need acrylic gesso for the priming job.
Stretching the Canvas Onto Stretcher Bars
Consider using stretcher bars if you want an alternative but challenging method of painting over an unstretched canvas.
For this method, you'll need a grabber and a staple gun.
The grabber will enable you to get hold of your canvas while you pull it, then use the staple gun to secure it on the stretcher bars.
Tip: Consider leaving more canvas around your painting when using this technique.
For instance, you'll need a 12" x 12" piece of canvas for a 6" x 6" painting.
But why paint on an unstretched canvas?
You can easily throw away those pieces that you didn't cut correctly.

More flexibility with composition. For instance, you can quickly shorten the stretcher bars or cut the part before gluing it to more negligible support.

It's space-saving and lightweight.
What Can Happen If You Paint on Unstretched Canvas
When you paint on unstretched canvas, there is a risk of paint buckling, cracking, and warping when you do the stretching afterward.
You will also likely pull paint off the surface as you grip the canvas using hands or pliers.
Note: It can be harder to get the painted canvas tighter than the one stretched before painting.
What Do You Put On a Canvas Before Painting?
It depends on the type of canvas you choose. Suppose you select a primed one.
You won't need to apply more unless you intend to modify the texture.
You can go for minimum or no surface preparation when using acrylic paints on unprimed canvas.
You only have to ensure that the base is not oily or greasy.
The drawback of choosing not to prime is that the absorbent surface of the canvas would sack up most of the paint.
Therefore, sealing and priming the surface with gesso before painting will be an advantageous step.
How Can You Prime Canvas With Gesso?
For this process, you'll require the below materials:
Sponge

Water

Paper towel

Plastic container

Acrylic gesso

Canvas (already stretched or glued on to rigid support)

1" – 2" flat brush

Plastic or metal stirrer
Below are the necessary steps for the process
Step 1: Wet the canvas
You'll need a wet sponge for this step. Use it to lightly wet the canvas (don't forget the sides).
Step 2: Stir the gesso.
Use a stirrer to stir the gesso in its container thoroughly.
Step 3: Pour the right amount of gesso.
Don't over-pour the gesso since you might end up with much extra that you may not want to use for the job.
The other reason for this is that gesso dries quickly. Thus, it might become challenging to return the extra one into the container.
Step 4: Add water
Consider adding up to 20% of water to thin the gesso.
Note: Dilute the first layer for easier spreading and penetration.
Pro tip: Since acrylic gesso is usually white, you can tint it by adding paint of your color choice.
Step 5: Clean the spills
You should note that dried acrylic is not water-soluble. Therefore, you must have a paper towel to clean the stirrer and any spills.
Step 6: Apply the primer.
A 1" or 2" paintbrush will work best for this step. Ensure you use horizontal strokes from left to right.
Step 7: Allow it to dry.
Give the primed surface an hour to dry, although it will be better to let it sit overnight.
Suppose you need extra layers (optional). Consider sanding between the successive layers. But if you need a textural effect, you can skip sanding.
Step 8: Paint
After all the above steps, your canvas is ready for painting.
Do I Need to Prime My Canvas Before Acrylic Painting?
No, it's not a must. The reason is that acrylic paint does not contain any substance that can damage the fabric.
So, What are The Benefits of Painting on Unprimed Canvas?
You rest assured of saving the time you would have spent applying the primer and waiting till it dries.
It's more appealing to work with the light beige color of unprimed canvas than the stark white of the primed one.
After painting, you'll notice that the natural color of the unprimed canvas appears through the transparent colors and slightly alters their appearance.
You'll get a unique look

.
It's easy to achieve watercolor style when you thin acrylics on raw canvas. 
Even though acrylic paints have a glossy appearance, you can get a matte surface by diluting the paint and using it on unprimed canvas.
Can You Paint Directly On Canvas?
It depends on the type of paint and canvas. For instance, it's recommended not to use oil paint on raw canvas.
What if you accidentally do so? Your material will eventually rot, and become crumbly, brittle, and weak.
You should note that acrylic paint has some water content in it.
Therefore, if you paint directly onto the raw canvas, it might draw impurities into the support.
Due to this, you'll notice that the support will eventually turn yellow. The paint medium will also turn brown over time.
In some circumstances, you can paint directly on the unprimed canvas using acrylic paint.
But you'll have to use more paint since the unprimed canvas will absorb more of it.
Do You Paint the Sides of the Canvas?
It will depend on whether you plan to hang it with a frame or not. If you choose to hang it, I suggest you paint the sides too. 
Doing this will also give the painting a more modern and contemporary feel.
Consider doing side painting when you are done with the front to avoid messing up the whole project.
Here are the options of what to do with the sides of your canvas:
You can opt to go for a solid color such as black.
But you can also choose any other solid color that works well with the other colors.
In this case, you can continue or warp the painting on all four sides of your artwork.
Use designs that complement
Choose any design that will complement your canvas without necessarily matching the image of your painting.
Note: These are not the only options. Thus, you have to be creative to achieve what you want.
What Type of Canvas Is Best for Acrylic Paint?
I suggest using stretched canvas made of cotton. This material is pre-primed with gesso, thus creating a perfect painting surface.
Tip: Most canvases have a pre-primer for acrylic or oil painting. Therefore, ensure you make the right choice.
Below are some tips for choosing a suitable canvas for use with acrylic paint.
Consider your needs.

Examine the quality.

Take note of the primed layers.

Check for warping or uneven cuts when purchasing a canvas panel.

Consider the cost.
How Can You Tell If a Canvas Is Primed?
The first step is to check on the label. But what if it does not tell?
Here, you'll have to compare the texture of the front and the backside. Again, the front side should have a smoother feeling than the backside. 
For unprimed canvas, the surface will be more of a cream or off-white. On the other hand, a primed canvas is relatively bright white.
Should You Sand Your Canvas?
You'll only sand canvas under certain conditions. For example, if you notice that the dried paint is too bumpy.
In such situations, use fine-grit sandpaper to sand the surface lightly.
But, again, it would help if you took extra precautions to avoid rubbing off the actual canvas.
After getting a smooth texture, wipe off the dust or residue using a damp cloth.
The next step is applying gesso and allowing it to dry before painting the surface.
Sometimes, you'll have to sand the canvas before painting. You should do this if you want a smoother surface. 
After painting, you can lightly sand the first layer before adding the next one.
Remember to clean and dust any residue with a clean rag.
How Do You Paint On Unstretched Primed Canvas?
You won't need special techniques for this task since the painting method of both stretched and unstretched canvas are similar.
Before painting the unstretched primed canvas, I suggest taping, nailing, or pinning to a board tabletop or wall.
Besides, you can consider using big clips on the board's edges.
Suppose you prefer painting with your canvas on the floor, put some heavy objects on its corners.
Since the surface has prime, you won't need extra priming.
If you move your canvas while painting, turning it upside down is a good option when clipping it onto the board.
Note: The larger unstretched pieces can quickly straighten with their weight if hanged.
Final Thoughts
You have seen how the canvas is a good material for painting jobs.
The only thing to consider is the type of canvas and paint you prefer.
Also, remember that most of these materials are good at soaking the paint.
Therefore, using too much on a particular area can cause bump formation. With all this knowledge, the question remains…
Can You Spray Paint Canvas?
Yes, you can.
Spray painting canvas will give you an even finish than a paintbrush.
You only need to ensure you follow the correct procedures.
I appreciate you for reading this article up to this point.
If you need clarification or have an observation, the comment box below is all yours.