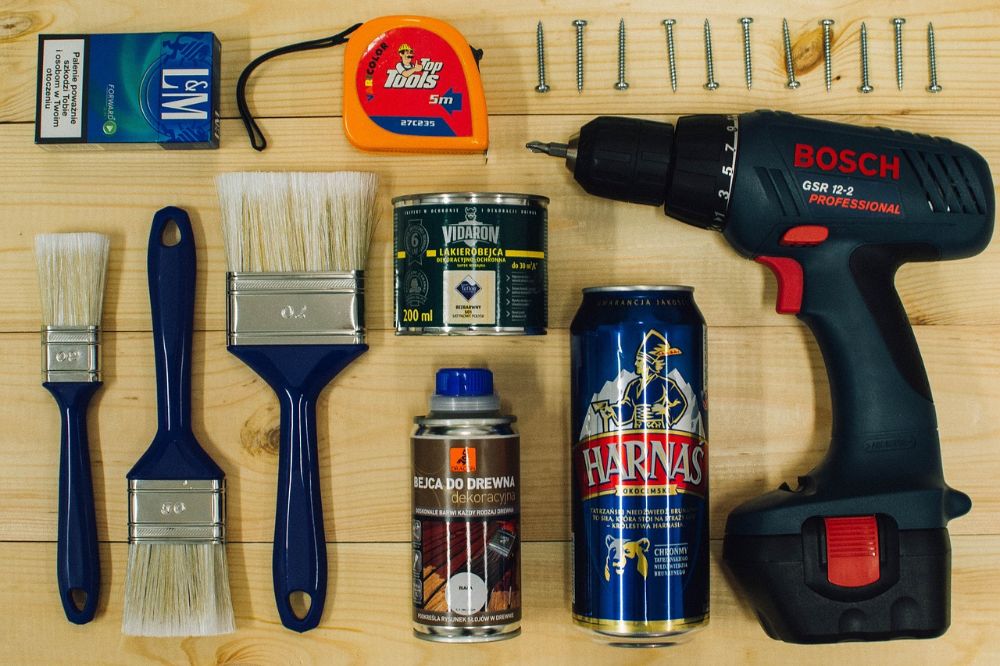 There is no alternative to having the necessary painting tools. Moreover, it does not matter whether you are a novice painter or a seasoned professional. Some tools are essential for almost all paint jobs. Therefore, what comprises the must have painting tools for painting projects? You may ask.
Adequate preparation and careful work are integral and cannot be ignored. However, you cannot boast of expert results without the correct tools. So, please read through this guide as it gives an in-depth assessment of various painting tools.
There are areas that you don't want to spill paint on during your work. Hence, it would be best to tape them off or cover them. Here is where the painter's tape comes in handy. It is available in different forms to accommodate various projects.
The tape is easy to use and does not strip off the paint if you use it correctly. Also, ensure that the paint finish cures before removing it. But do not wait longer than needed as it may present problems.
Additionally, you can use a utility knife as you remove the paint if a latex finish begins to pull away. Then, make a small cut where the paint and tape meet.
It is essential to know the size of the surface you are painting. Thus, it would help to get a tape measure to get accurate measurements. These statistics help you determine the correct amount of paint you need. You don't want to keep going back to the shop for more paint. Or to have so much leftover paint that passes as wastage.
You will find a variety of dust sheets in the market. They range from cotton to plastic and other materials, including paper. Therefore, dust sheets are suitable for projects that need different protection strategies, such as carpets, stairs, and hardwood.
The recommended practice is to remove the furniture from the room before major painting jobs. However, you can use plastic sheeting if you cannot move the items. The tool gives you peace of mind as you do not worry about paint spatters on the surface.
Even so, please ensure that you secure the dust sheets to prevent accidents such as tripping.
Door frames, window sills, and skirting boards are tricky places to paint. Hence, masking tape is an essential tool. It would also help to get a high-quality tape for a better holding job. Cheaper tapes have poor adhesion and will keep coming off easily. Moreover, the tapes will be wear and rip off easily and quickly during removal and thus increase the risk of hitting the freshly painted area.
Ensure that you remove the tape slowly and carefully. Also, consider when the paint is almost dry and tacky because wet paint can bleed out of a small drip. Similarly, the tape will take a lot of the paint finish if you remove it after a longer duration or when the finish is dry. This scenario leaves messy paint chips and compromises the paint job.
A paint tray is crucial if you are using a roller. Also, the best alternative is a sturdy metal accessory and disposable plastic inserts for various paint hues.
Dip the roller in the formula. Next, roll it gently back and forth on the slant area to ensure uniform and even paint distribution. Also, remember to remove the excess formula before applying it to the surface.
A small pail will go a long way to making your painting work easier. For example, it is hard for you to climb up and down the ladder regularly to get the paint or primer. Again, it would not make sense to have a big bucket with you up the ladder. Therefore, a lightweight, small bucket with handles will do the trick.
On top of that, we have some small cup-sized containers that have a superior magnetic mechanism. Hence, you can keep your paintbrush safely suspended above the paint.
This equipment snaps onto the quart or gallon can and helps direct the paint to the specified area. It also prevents the paint from spilling and running down the can's side. Therefore, you spare the floor or drop cloth, a frustrating mess.
Additionally, the paint spout helps you to transfer the paint successfully to other containers. Thus, you keep a clean floor even if you did not have a drop cloth.
A roller is a perfect tool to cover a large area. However, it would be best to consider the nature of the paint formula. For instance, select a synthetic roller like nylon for latex or water-based formula and a natural one for oil-based products.
In addition, you could get a roller cover to minimize your trips to the roller tray. It also helps you to eliminate drips and thus keep the working area clean. 
This cleaner is easy to use and helps you to maintain your high-quality roller covers. You only need to position the roller cover on the tube and uncover its end. Then, turn on the water after connecting the hose to a faucet.
Also, you can use a roller spinner to speed up the drying process. Then, fluff the roller nap using a quick spin. However, it is not necessary, and you can just let the accessory dry naturally.
Most rollers have a short handle, which can be a limitation if you have a high wall to paint. Thankfully, this tool comes to your rescue. You attach it to the end of the roller's handle, and you can get right up the wall. You can even paint your ceiling with it.
This accessory can be too much if you are painting a single room. On the other hand, it is the most suitable tool for redecorating and painting an entire home or several houses. 
Fortunately, you can rent a paint sprayer. Thus, you will deliver consistent painting results and reduce the work time without spending a lot of money.
Painting results depend on how you mix the paint, especially if you have colored formulas. Thus, it would help if you got a paint mixing paddle. 
Also, if you have large paint amounts, attempting to mix paint using your hands can be a long and tiring process. So, please consider an inexpensive mixing paddle.
A single central bulb may not illuminate the work area properly, especially if you are painting at night. Also, you may experience a blackout at night. Hence, please have a work light within reach to illuminate the workspace.
Sponges are essential for applying wall cleaners to your walls and other surface areas. However, it would be best to get new and high-quality ones. Old sponges harbor dirt and dust that may be hard to eliminate. Also, the sponges may leave bits of the fabric or material on the work. Thus, compromising the cleaning job.
A sander helps remove the paint finish from the wood. You can also use it to prepare the surface to accept paint. In addition, sanders can work the primer after application to ensure that the paint holds tightly to the lumber.
A small manual sanding block is perfect for a small DIY paint job. But, it would help to get larger and electric versions for big projects.
This accessory makes your sanding work much easier. First, link it to a purdy extension pole with a hand sander. Then, proceed to sand the hard-to-reach areas in the room. Also, you'll be able to work on freshly plastered walls and ceilings that need sanding. Thus, applying a final coat will be pretty easy.
Ensure that you procure sandpaper that is compatible with your sander. Also, pick a relatively fine accessory that smoothens the surface properly. You want to deliver a perfect surface free from bumps and other imperfections.
In addition, it would help to use different grit sandpaper types. Begin with the lowest grit as you work your way up to a more coarse one. On top of that, please use minimum pressure lest you end up with a hole again!
You may say that you are a roller kind of painter. But you may need a brush for smaller areas and perfect edging. Also, please consider polyester brushes for water-based and latex paints and natural bristle ones for oil-based formulas.
Additionally, procure angled brushes will help paint straight lines for small areas. And flat-headed ones for filling in even and larger spaces.
A brush cleaner is a sure way to ensure that you work with a clean brush. Also, you do not have to buy a new brush for every project. Therefore, you are sure that once you invest in a high-quality brush, it will serve you for an extended period.
You can use whatever you deem okay for covering your paintbrush. But it would be best to get dedicated brush covers as they are easy to apply and remove. Grocery bags and other materials may not store up the brush well.
This equipment is a special ladder that allows you to adjust the sides to different heights. Thus, you can use it for uneven ground or regular stairs. Also, the ladder allows you to create two trestles that can handle a work plank.
Ladder mitts usually protect the walls or siding of a house. Ladders can become heavy when they contend with trees or the wind. Hence, this equipment helps you avoid chipping or denting siding with an unprotected ladder.
Also, you do not want to break a window or cause accidents during the paint job. So, it is recommended to get the mint to stabilize your ladder in the work area.
This accessory is perfect for offering supreme stability to the ladder. Moreover, it positions the ladder safely on multiple surfaces that seem dangerous. They also work with extension or step ladders. Thus, you can reach high wall surfaces easily.
Even so, it would be best to ensure that the ladder is stable before climbing to very high heights.
The racks are useful to DIYers, homeowners, and contractors. They come in handy when you have multiple cabinet doors or trim to work on but limited space. Also, you can attach the stack racks to the doors as you paint one side. Then, flip them over before painting the other side.
In addition, stack racks allow you to make all these adjustments without touching the newly painted paint.
Working on a clean surface is crucial in painting. A dirty or dusty wall prevents paint adherence and eventually causes the paint to bubble. Thankfully, cleaners are easy to use. Mix them with some water and wipe the surface with the cleaner.
These tools help to add patterns and designs to your walls. They are also much better than wallpapers and wall decals as you can repaint the surface easily. In addition, you can use them to put a feature wall in the kitchen or bedroom.
Sometimes you have small surface areas that you do not want to paint, such as window molding. Hence, tapping would not be an ideal alternative. So, you may want to use a plastic or metal edge. Hold it against the specified area and apply the paint outside the edge. 
Also, ensure that you clean the edger with a cloth before removing it. This exercise helps you to avoid dragging paint where you do not want it.
Drop cloths are also essential accessories during a painting project. They preserve the furniture and floors from accidental paint spills. In addition, though canvas rags are pricey, they are long-lasting and absorb the paint better than other cloths.
Working with drop cloths is enjoyable as they possess solvent and puncture-resistant qualities. Also, they are slip-resistant even when wet and thus perfect for your work.
On the other hand, plastic drop cloths are re-usable and lightweight. But they allow paint spills to pool.
Painting rags are similar to drop cloths. But they are simple and are mainly for wiping quick spills. Also, it would be best to get rags that quickly absorb paint and dry quickly. You do not want to have paint streaks on your surface. 
On top of that, you can use painting rags to pad your ladder points. This exercise would help to wipe your hands quickly or clean your sprayer.
Angle Grinder Dust Catcher
This tool comes in handy during paint removal as it helps to collect dust. It also has a spring suspension and a brush skirt that seals the attachment to the surface. In addition, this dust collector possesses a removable segment that enables you to get the grinder close to painted edges.
Scrapping paint is not a fun venture, and we'd appreciate anything that makes the work easier. Fortunately, this little scrapper saves the day! Its blade stays sharp for an extended period, and you do not need to replace it often. In addition, the scrapper has three cutting edges that facilitate the perfect paint scrapping experience.
The tool is ideal for cleaning small areas and corners that are hard to reach. You can also get a drop, pear, and round-shaped blade that fit the scrapper's handle.
Mistakes will happen as you proceed with the painting venture. Hence, it would be best to prepare for them. Thankfully, removal strips are a perfect paint removal strategy. They help to quickly and effectively clean up messes and accidents. Thus, the paint job remains as good as new or as you had intended.
A screwdriver is a common tool in most households, and thus most of us may overlook its importance in a painting project. But still, the tool helps to remove things like base plates if you are working behind the plate. So, ensure that you specifically get it before you begin painting.
This tapping knife slots under the baseboards. Hence, you can paint without spilling paint on the floor. In addition, it is easy to remove it, and it leaves a clear line and a neat finish. You will enjoy working with it as it is more convenient than taping and removing the tape now and then.
This knife is essential as it comes in handy when applying joint compound and patching cracks. Thus, you get a smooth and even surface that delivers a professional-looking finish. It also reduces the sanding time, and you can finish your work faster.
A pencil at hand will always be a good idea. Painting requires that you mark out measurements to ensure that you do paint the correct surface area. Also, a pencil is a pretty small tool that does not take up much room in your toolbox.
A painter's pant does not just keep you from staining your clothes. It also has loops that hold tools like poles and brushes. On top of that, they have extra pockets where you can store screwdrivers. This attribute helps you have the essentials as you go up a ladder.
You cannot avoid working on the floor as you pick the tools or mix the paint. Also, it can be so uncomfortable if you have to keep kneeling on a hard surface such as concrete.
Therefore, it will help to invest in protective knee pads for large painting projects.
Using painter's shoes and gloves is a perfect way to protect your hands and feet from any injuries during painting. However, you do not need them for light or small painting projects.
But please get these accessories if you are about to engage in some heavy-duty painting. They will come in handy in keeping your fingertips and toes safe and clean.
Liquid paint and toxins can land on your eyes during a paint spraying spree. Hence, not having eye protection can compromise your safety.
So, please get quality safety glasses, especially if you are working on a large surface.
These masks filter toxins off the spray paint, and hence are useful for respiratory protection. Also, they are a perfect option if you work with oil-based paint products.
Thankfully, they are available in all sizes, and you will get a perfect fit.
We have additional tools that will help you get a successful painting product. Although it is not mandatory to have them, they make work easier.
This equipment is a powerhouse, especially if you are doing a lot of painting around the home. It has a flat edge for applying putty in holes and scrapping. Also, you will enjoy working with the nail-puller opening that helps you remove unwanted nails on the wall.
On top of that, the paint tool possesses a pointy edge for removing caulk, cleaning out cracks, and opening paint cans. You can easily close paint cans or reinforce small nails, thanks to the tool's hammer handle.
Lastly, the five-in-one paint tool offers a curved surface that removes paint from rollers.
This hand-masking tool tapes paper and cuts it to the right length. It also provides a convenient, fast, and affordable way to cover walls or trim with plastic, masking tape, and paper.
The tool helps painters who engage in a large painting project and want a quick strategy that keeps surfaces from paint spatters. In addition, it comes with a six-inch blade that you can extend to 12 inches.
You may be asking if this container is really necessary for your work. But yes, it is! A five-gallon bucket is excessive if you are painting a small cabinet in the kitchen. However, the story changes when you are painting an entire house.
Pour all your paint cans into the bucket and deliver a perfect mix. Then, refill the paint cans with the mixture and begin painting. This exercise also ensures that you work with an even color throughout.
In addition, similar paint colors and brands may have minuscule variances. So, you facilitate a uniform hue once you mix them.
Paint conditioners improve the paint flow and eliminate brush and roller marks. Thus, they deliver an easy and quick application session. Also, they help when working in cold, hot, or windy conditions while still maintaining the inherent attributes and qualities of the paint.
A heat gun is another great tool that helps correct mistakes as soon as they appear. It allows you to heat and scrape off paint without much effort. Also, the tool is better than most chemicals and thus less likely to damage the surface.
A vacuum sucks up all the dust and debris in the working area. Hence, it helps you to maintain a clean and tidy space. In addition, you can use it to clean large paint spills.
Painting contractors will tell you that this is a must-have for large painting projects. Spray shields allow you to quickie shield or mask a region from overspray. Thus, the whole spraying process becomes faster and safer.
On top of that, it would be best to use shorter strokes when working with a spray shield. Otherwise, you may overshoot the length of the tool and end up getting paint spatters on other surfaces.
Are there painting tools that you can skip, especially if you have the above requirements? Of course, yes. Please check them out!
Anything that absorbs paint in the handle.

Any tool that sucks up paint into the handle can be a nightmare to clean and use. Thus, you end up wasting much time keeping the equipment in check instead of painting.

Paint key.

You do not need a unique tool to open the paint cans. A screwdriver will deliver perfect results.

Paint pads.

These pads are only necessary if you are working on hard-to-reach surfaces like a radiator or toilet tank. Hence, you do not need it for a simple furniture or wall paint job.

Plastic tube to cover a wet roller.

A plastic tube is not a must-have if you have completed the painting surface. However, it would be best to cover the roller in plastic wrap if you want to pick up the work tomorrow. Then, store it in an air-tight plastic bag.

Plastic tray liners.

You do not need plastic tray liners if you invest in a quality hard plastic paint tray. Also, you do not have to throw away the liner after every project. Thus, you save money and time.
Frequently Asked Questions
Here are some of the most common questions about painting and painting tools.
What Do I Need the Most for a Simple Paint Job?
The three most essential supplies for painting wood panels or canvas are paintbrushes and acrylic paint. The paint is usually mixed properly before the purchase. Thus, you can begin as soon as you open the can.
Do Professional Painters Prefer Paint Trays?
It depends on the project at hand. But unfortunately, the trays can be an inconvenience as they are easy to step into to knock over, resulting in a big mess. So, most experts do not fancy the paint tray for their rollers and prefer to invest in roller screens that hook inside the five-gallon bucket.
What Brush Should I Use For my Paint Job?
It would be best to choose a brush based on the paint type. For example, select natural bristled brushes for oil-based formulas. They are soft and supple and thus will deliver a smooth and glossy surface.
On the other hand, please get synthetic brushes for acrylic or water-based paint products.
Which Roller Can I Use to Get a Professional Finish?
The surface you are painting determines the kind of roller to use. For instance, a medium ⅜ inch nap roller will work best for drywall and ceilings. Then, small ¼ inch nap roller covers or foam rollers will deliver the smoothest finish for wood, walls, and metal.
Also, consider microfiber rollers for light to medium textured areas and white weaved short nap rollers for smooth surfaces. The latter will deliver an impressive ultra-fine finish.
Can I Use a Sprayer for my Paint Job?
Absolutely yes! It is okay to use a sprayer for your work. Moreover, professional painters have paint sprayers worth thousands of dollars. Thus, sprayers are an essential tool in the painting field.
But, even so, it would be best to start with a simple and less pricey paint sprayer for DIY projects.
Is it Better to Spray or Roll Cabinets?
It is better to spray cabinets as there is no worry about leaving brush strokes. Paint sprayers also deliver a uniform and even finish that does not need sanding or a touch-up later. In addition, spraying will help you cover a large surface within a short duration.
Is Spraying Faster Than Rolling?
Yes. Spraying is faster than rolling. However, you need to do more preparation work for the finish to be even and uniform. On the other hand, rolling is much slower, but you will achieve a thicker coat. Also, you have less preparation work to do before painting.
Conclusion
Painting is an excellent strategy to transform the feel and look of a room while maintaining a small budget. However, there are tools that you cannot start or proceed without if you want a successful project. Thus, it would help to discuss in detail:
Must Have Painting Tools
Interestingly, you can remove a few items from the above list and add others according to your preference. But also, please remember that you can have everything you need to deliver a top-notch finish. Yet fail miserably because of poor preparation. Thus, invest some good time to prepare the surface.
On top of that, buying cheap tools for your paint job is equally disastrous. They will not give you good results, and you'll end up with a failed product.