Log stains and finishes are an essential part of any log home or cabin owner.
It explains why you will always need the best log home and cabin stains and finishes if you own such structures.
These compounds protect the wood and help prolong its life span.
The difference between the two is simple; stain color the wood while finishes secure the wood and protect it from moisture.
Other than offering protection, it makes wood or logs extremely beautiful and provides a long-lasting solution.
Below are reviews of some of the very best log home and cabin stains and finishes.
1. Outlast Q8 Log Oil- Best Overall
Outlast Q8 log oil is the overall best for log homes and cabins.
When applied, Q8 turns into a dark color and eventually lightens as it dissolves into the wood. 
This formula has environmentally acceptable wood preservatives to control decay-causing organisms mold, powder post beetles, and termites. 
Unlike the traditional coating on the surface, Outlast Q8 penetrates deeper into the log and provides guaranteed protection to prevent cracking or peeling. 
The oil does even much more by ensuring it is water repellant and results in an amazing color with the strike of one coat.
The good news is you will never be required to leave the house during the application, thanks to its faster drying time. 
You will need protective gear like a breathing apparatus to avoid respiratory tract irritation or eye tearing. 
Summary of the top features
Protects wood against beetles or rotting

Water repellant

You get to apply only one saturating coat 
Advantages 
Does not peel or crack

A wood preservative that is EPA registered
Disadvantages 
You will have to spend more to lay your hands on this product.
Check Latest Price
2. Ready Seal 510 Exterior Stain and Sealer for Wood
Ready seal 510 is an oil-based stain and sealer all in one.
The unique blend of quality oils and resins and finely ground pigments dissolve deeply to preserve and protect the wood from the elements. 
The formula protects wood from damaging ultraviolet rays, mildew, and mold.
Apart from enhancing the natural beauty of the wood, it allows the texture and grain of the wood to remain visible. 
Do Not forget that it is also semitransparent, making it ideal for all your exterior wood projects.
Ready Seal comes in nine colors: golden pine, burnt hickory, dark walnut, light oak, mission brown, redwood, pecan, natural cedar, and mahogany. 
The product is the darkest when first applied and later reaches its true color in approximately 14 days. 
It is important to note that the color will vary based on the wood type. 
Additionally, the product effectively affects all types of wood and produces excellent results on premium-grade lumbers, including redwood, Douglas fir, spruce, red cedar, and cypress.
Summary of top features 
Available in nine different colors

Changes to its original desired color a few days after application

Requires no back brushing or a wet line application method

Ready seal 510 can be applied in any temperature range
Advantages 
It does not require any primer

Enhances natural wood beauty
Disadvantages 
It is not available in California state
Check Latest Price
Before we continue our countdown on the best log home and cabin stain and finishes, let's discuss how to stain logs and cabins:
How to Stain a Cabin or Log Home
Staining a log home or cabin is the right step towards protecting it from external damaging elements. 
Log stains come with UV inhibitors which help protect the wood from UV rays that cause fading and discoloration.
Also, stains have waterproofing properties which help prevent rotting due to accumulated water inside the log.
So, to get the very best out of staining your log home, you will need to ensure the proper staining process. 
Below are the procedural steps to follow for proper staining of log homes and cabins:
Up to Speed With the Weather!
The very first thing that you should do is check the weather. 
It is perfect to work in between 50 and 70 degrees with low humidity and little to no chance of rain.
If you are staining over a stained log home or cabin, ensure that the new stain is compatible with the existing stain. 
Whenever you switch from oil to water based stain, you will be forced to use a cob blaster to access the bare wood.
Step 1. Prepare Your Logs
As a preparational step, you must clean your log home or the logs before doing anything else.
We clean because dirt and other debris on the surface of the logs will prevent the stain from adhering to the wood. 
So, to work on a clean surface, you would have to clean and have your wood in a bare state with the help of a pressure washer with a minimum psi of 3,000. 
If you are changing to a new stain incompatible with the previous layer, you will need to use a corn cob blaster to get to the bare wood. 
Alternatively, you can go for an orbital finish sander to help remove mill glaze and get to a clean layer of wood. 
Once you have sorted out the debris and dirt on the surface, you should wash your cabin one more time to certify that there are no particles left.
Note: It is a safe practice to have your mask on to protect you from inhaling particles.
During your preparation for staining, you should ensure that areas that are not of interest during staining are protected from possible stain spillage.
You will need painter's tape or plastic to cover doors, windows, and other areas you do not intend to stain.
Step 2. Ready Your Stain and Tools
Before you begin your staining work, it is crucial to have your stain and other relevant tools ready and within your reach.
Your stain must be available so you won't have to stop mid-way waiting for the next order to arrive.
For uniformity in your staining of the log home or cabin surface, you'd want to have the job done the same day.
Another trick you can employ to avoid color variations is by blending. 
So, if you have different batch numbers on your stain containers, you can choose to mix them.
As far as your staining tools are concerned, you should ensure that they are clean and functional for an easy time when working.
I also advise that you have many brushes at your disposal. 
With the amount of work involved during staining, you will always want to have breaks in between, so extra brushes on hand will allow you to be consistent.
Step 3. Apply Initial Coat
Before applying the first coat, you need to know and do the following!
First, check the weather for staining a log home.
As I stated earlier, the best log home and cabin staining temperature is between 50 and 70 degrees Fahrenheit.
Again, it would be best if you were up to speed with the news from the weatherman to be sure that it will not rain, at least for 72 hours.
Usually, 24 hours after application, most stains can hold up against mild rains; even so, it would be best if there were no rains for up to 3 days.
Also, please read and understand the manufacturer's instructions on how to go about using their formulas.
Most oil based stains need two coats. The water based stains like Capture Log Stain & Cascade will need up to 3 coats.
As you apply your first coat, ensure that you work in a properly ventilated room.
If you are using paint sprayers, I recommend you work with a second person whose role should be using a brush to go over the sprayed areas. 
Brushing over the sprayed areas ensures proper stain penetration into the wood to create a uniform look.
Step 4. Check and Caulk Cracks.
Once you are through with applying your initial coat, it is time to caulk cracks. 
Applying the first coat allows you to caulk the areas needed quickly.
5. Applying the Final Coats.
Different stains come with different instructions for application. However, most stains require two layers, while others require up to 3 coats.
A light coat will ensure deep penetration and proper adhesion of the formula.
Ensure that areas around the structure that do not need staining are covered.
Some areas you need to cover from stain spillage include doors, windows, adjacent structures, and plants around your working area.
Here's a Video On Log House Staining:
At this point, I hope you are up to speed with all the procedural steps that you should observe when staining your log home or cabin for protection against elements.
Kindly stay with me as I continue my countdown of the best log home and cabin stains and finishes:
3. Timber Oil Deep Penetrating Stain for Wood Decks
The good thing about the Timber oil is that it comes in four different colors: Western cedar, Amaretto, Brown sugar, and Warm honey gold. 
Not only can you rely on the color, but you can also rely on the Woodrich Brand. It can cover up to 750 SQ FT of wood in a single use.
You can apply this formula to new wood.
It has trans-oxide pigments, providing much better coverage than other paraffinic stains. 
The Brand is easy to use for a contractor or a DIY homeowner.
For first-time users, you will receive perfect results and a great touch. 
What's more about this formula is that it will never run, overlap, or leave dip marks because it sinks deep and replenishes the dry, old wood.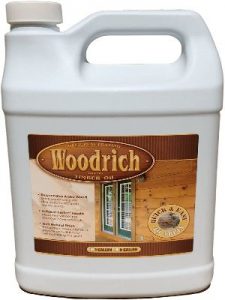 Summary of top features
Composed of transparent oxide pigments that provide a rich finish

There are sample color kits readily available

A user can apply to new wood.
Advantages 
the user can apply with a garden pump-up garden sprayer

It leaves a flawless finish with no risk of overlaps

A user receives perfect results
Disadvantages 
It gets a strong odor for a while
Check Latest Price
4. Sashco Capture Capture Log Stain
The journey to your dream cabin or log home must have been long, thanks to months of anticipation, sweat, and planning.
Even as you get there, finish strong with a stain made specifically for logs and timbers.
When you use Sashco capture Log stain, it promises protection and lasting beauty.
The product delivers a performance worthy of the journey.
Besides its excellent durability, it offers a unique elastic formula that moves freely as the logs move instead of creating a crack and causing a peel-off like the other stains. 
Sashco capture covers up to two coats in a row.
The first coat covers up to 150-250 square feet per gallon, while the second coat of the formula covers 250-350 square feet per gallon. 
This formula is water-based, which makes it so much easy to clean.
Summary of top features 
The clean surface can be applied cascade for maintenance 

The formula comes with excellent elasticity 

can be used for exterior and interior environments 

Protects and preserves your Log home. 
Advantages 
Easy to clean using water

Captures the essence of the natural
Disadvantage 
It is a bit expensive side but so much worth it!
Check Latest Price
5. Continental Weatherseal Stain Rustic Pine
The continental weather seal has a creamy thick, dissolving formula that holds onto vertical surfaces, eliminating the wasteful runoff and mess of most regular stains. 
This formula is oil-based, semitransparent, alkyd resin wood finish designed for shake shingles, wood siding, log homes, wood playground equipment, wood decks, and railings wood furniture. 
It's impressive how the manufacturers diversified the product to make it super reliable for woodworkers or DIYers.
Its highly durable oil-based resins, special performance boosters, and waterproofers hold the elements by shielding the wood against harmful ultraviolet radiation rays. 
It is not just the name; the manufacturer had the consumer in mind for this excellent stain formula.
Summary of top features 
Offers great protection against UV rays

The combined formula is waterproof

Weatherseal is semitransparent, offering a natural beauty
Advantages 
It contains very low levels of volatile organic compounds

It eliminates drips

The product comes with a long-lasting protection
Disadvantages 
There is currently no negative feedback from customers.
Check Latest Price
 6.
DEFY Original Log Home Stain – Log Sealer for Log Cabins
Prevent deterioration of your log home and cabins using DEFY Original Log Home Stain.
The stain is a blend between a water-based stain and an oil-based log sealer. 
This formula boasts of having the best of both worlds, though it applies like oil and gets to clean up with water and soap.
The stain has ultraviolet ray blockers, which last longer than other wood finishes on the market.
It penetrates deeply into the wood allowing water vapor to escape while also adhering to the pores. 
DEFY Original stain is a quality product for any professional that demands performance while appreciating the advantages of water-based products. 
It protects wood without damaging the environment and maintains its natural strength and beauty.
Whether your wood is a pressure-treated porch or fence, pine log, cedar wood, siding, or redwood, there is no better way to protect your investment than with a DEFY wood finish.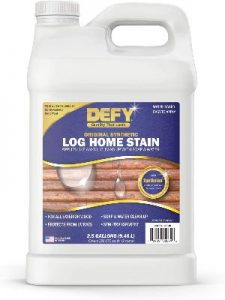 Summary of top features 
A semitransparent stain that seals all exterior wood surfaces

It is an oil-based log sealer and a water-based sealant.

Cleans up easily with soap and water
Advantages 
It comes in six multiple colors

The best for the environment 
Disadvantages 
No presented setbacks so far
Check Latest Price
7.
PPG ProLuxe Log and Siding Wood Finish
The PPG Proluxe Log and siding finish is a high-performance translucent exterior for Log homes or cabins.
It has an alkyd high solution formulation, excellently offering optimum protection and a premium look in two coats. 
When applied, the formula creates a protective cover that gives Logs and sidings a superb furniture-like finish that allows all the wood's natural characteristics and grain to stand out. 
Proluxe Log and siding wood finish cover 350 to 450 feet per gallon when used on smooth wood.
On rough wood, it covers 175 to 225 square feet per gallon. The finish creates a durable surface barrier to prevent the wood from weathering. 
You can use this product on cedar, garage doors, trim, sidings, logs fir, pine, redwood, and spruce.
Get your wood showcasing its natural state by purchasing one of the best log home and cabin stains and finishes.
Summary of top features
It contains high solid Alkyd formula.

The formula has translucent iron oxide pigments and ultra-violet rays blockers.

Offers excellent flexibility
Advantages 
Ideal for exterior usage

Formulated with an extensive coverage

a user can apply it to multiple surfaces

It offers a long-lasting protection 
Disadvantages 
The colors have not been classified the right way from the information given on the can.

It dries up slowly.
Check Latest Price
8.
SEAL-ONCE NANO+POLY Penetrating Wood Sealer with Polyurethane
Seal once is a brand that has tirelessly led in nanotechnology to create a long-lasting, non-toxic wood sealer and stain since 2005.
An added POLY in the formula creates a UV-stable coating that preserves the natural color of the wood that helps resist weathering and decay.
NANO+POLY can be tinted and is used as a wood stain or finish in 11 semitransparent color tints that also provide added UV protection.
It is a water-based eco-safe sealer that goes on milky white and dries clear.
The formula is ideal for use on unfinished interior and exterior wood. 
The water-based wood protector combines propriety nanotechnology with the strength of polyurethane to provide 360-degree protection.
Seal-once Nano+poly prevents staining, mildew, mold, wood rot, warping, and cupping.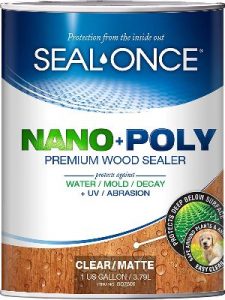 Summary of top features 
Has Nanotechnology and added strength of polyurethane

It comes with an Ultra-Low- VOC wood sealer that is safe 

Creates a UV barrier to prevent fading when used as a stain
Advantages 
A great investment that extends natural wood life

It is easy to apply with soap and water clean up

It does not peel like many topical sealers 
Disadvantages 
It does not penetrate as advised
Check Latest Price
9.
Cetol Log & Siding 1 Gallon Dark Oak
Cetol has Alkyd high solids that offer optimum and premium looks in just two coats.
Apply two coats of the product, and your log transforms into a face that makes it stand out. 
It is a high-performance translucent exterior stain for log homes.
It offers a protective film that gives the logs and sidings a premium finish with natural wood traits. 
The formula offers a semi-shiny look on the application making it number one for log homes and cabins.
It has powerful ultraviolet ray absorbers that protect color and wood substrate.
With all these features in one place, you cannot expect anything less than excellence. 
The two coats applied for the satin finish give a warm reflective color to the exterior of your home and provide a mildew-resistant finish.
It is one of the best Log home and cabin stains and finishes on the market.
Summary of top features
The formula produces a semi-shiny look on logs

The satin finish creates a protective film

Cetol Log has translucent pigments that enhance the beauty

UV absorbers protect color and wood substrate
Advantages 
It has resin technology that prevents peeling and cracking

It repels water
Disadvantages 
The mixed formula is expensive 

It is not readily available 

Not ecofriendly
10.
Sashco Transformation Log and Timber Stain
Sacco transformational Log and Timber stain is the premium log stain you need to restore your log home.
If you're looking into evoking feelings of inspiration and accomplishments from your dream home, you definitely will not get it from sunburned or grayed-out logs and timber. 
THis formula provides an excellent oil finish that will turn your home into a masterpiece.
The Sashco stain's exquisite color portfolio and glossy finish show the unique character of your logs and timber. 
Its specific chemicals make it compatible with even the most difficult coatings and stains, making it the go-to product for even the toughest jobs. 
The colors available are brown tone Dark, brown tone light, brown tone medium, gold-tone dark, gold-tone light gold-tone medium, natural, red tone dark, red tone light, red tone medium, and redwood. 
Summary of top features 
A semitransparent gloss stain that shows off the wood grain

It is chemically compatible with a wide range of stains

Presence of exquisite color portfolio designed for log homes
Advantages 
Stain is very much ideal for new construction and restoration jobs

It contains low VOC levels

It comes in the size of a 1-gallon container
Disadvantages 
Based on your timber texture or log that will determine your final color.
Check Latest Price
11.
Sikkens Proluxe Log & Siding
Who doesn't want perfection, performance, and prestige all under one roof? The one and only Sikkens Proluxe Log does just that. 
With translucent pigments, it enhances the beauty of your wood, giving it a breathtaking feeling.
Besides providing rich saturated, vibrant color, the formulation makes your home stand out with a complete satin finish. 
People will walk near your house and get blown away by the good sight.
Spending less and acquiring absolute beauty is something you want and will get right from this formula.
The translucent pigments enhance your wood's beauty by working between the components and creating an enormous solution.
Sikkens offer superior durability, which means less money and time are maintained and more time enjoying your beautiful house. 
Summary of top features 
It has rich, saturated, vibrant colors that make your home stand out.

They have translucent pigments that contribute to the beauty of the wood. 

The product is an oil-based Alkyd resin formula

It is applicable on logs, trim, and wood siding
Advantages 
It comes in multiple colors

It produces superior durability that results in less work for you.

The product protects your investment and dream.
Disadvantages 
The product is currently unavailable
Check Latest Price
Best Log Home and Cabin Stains and Finishes Buyers Guide
In this section, you will receive reliable information that will come in handy when purchasing wood stains and finishes. 
With multiple brands and types available in the market, it could get confusing, but once you have mastered what you are going for and what you need for your log home or cabin, it will be a lot easier to choose. 
Different Types of Wood Stains
Stains are dyes or chemicals dissolved in a solvent to produce substances for wood coloring and protection.
The solvents used for dissolving may include; polyurethane, varnish, lacquer, or shellac. 
The varnish contains a binder, often polyurethane varnish. When applied, it dries extremely hard, making it unnecessary to wipe off excess stain when it dries up to achieve an even color.
Also, you do not require a finishing coat as the product acts like one.
Vanishes are ideal for stained surfaces or ones that are worn or scuffed.
It is one of the market's most available types of stain and is synonymous with many.
They can be made clean with mineral spirits and have any finish applied to the stain, except for the water-based finish. 
Additionally, oil stains are very easy to use for anyone. 
As the name suggests, water-based is natural and will not irritate your skin or eyes.
They can be cleaned using soap and water and dries up very quickly.
It is not advisable to mix water-based with oil unless you have more than a week to let it dry. 
This is one of the stains that delivers a very uniform cover when applied.
It sits on top of the surface without dripping and is very easy to use.
The exciting news is that painted surfaces can also be gel stained to produce outstanding results. 
The Lacquer contains ketone and xylene, making it a fast drying content that competes with its counterparts.
It requires a practicing hand to avoid making easy mistakes as it is light during application. 
The components in Lacquer formula vaporize fast, which causes a pungent smell. It is, therefore, necessary to wear a safety mask. 
It is one of those stains formulated to fade much more slowly.
The stain has added metals like copper, cobalt, chromium, and nickel that produce a strong component. 
You can apply it using a sprayer for a deeper, more evenly distributed coat. 
The good thing about this type is that it penetrates deeply into the wood and produces beautiful colors.
It has a low volatile organic compound, so it won't have any gross effects on your breathing system. 
It is in a powdery form and requires the addition of water for use. The water-soluble dye preserves the grain even in the darkest tones.  
Factors to Consider Before Buying the Best Log Home and Cabin Stains and Finishes
When buying the best log home and cabin stain finishes, important factors play a big role in meeting individual needs. Preferences and desires largely dictate your end product.
Nothing is as good as knowing what you want and going for it.
As we had mentioned before, style is decided by preference and taste.
Visualizing an ideal log home or cabin style will easily advise you on the type of stain to buy. 
Read magazines related to your search and go for that which you desire. 
Quality is considered essential for everything in life. Stains are made differently and with each unique purpose.
Knowing your needs will dictate the type of stain you buy to produce the right results.
As a functional human being, it is only normal to use budgets in life.
Our budgets are not the same, so products in the market come with different levels and prices. 
Go for the stain and finish that is within your budget and, at the same time, preserve your surfaces.
The stains come in multiple colors that are highly appealing.
As buyers, you may want to match exterior house colors to their respective decks and fences or still want them to serve as a compliment. 
All that depends on what colors you want. 
The information you narrow down to is what will advise on the color to pick.  
Different types of wood may have been used in a Log home and cabin.
The texture of the wood changes how the stain will appear once applied. This will affect the kind of stain you will use. 
Therefore, looking at the wood qualities before buying a stain is important.
Is Cabot Stain Good for Log Homes?
Yes, it is good. Cabot stain originated from the manufacturer of wood stain Samuel Cabot.
He formulated one of the best-known brands. The stain can be used on rough and smooth exterior wood, including log homes. 
It provides excellent results to your work on decks, roofs, and siding fences.
Cabot produces efficient results on seasoned lumber such as pine, spruce plywood, redwood, fir, cypress, and weathered wood. 
Cabot penetrates deep into the wood as it offers protection for a long time. When the surface is prepared properly, you get maximum stain performance on your wood. 
Whenever you are ready to use it, ensure to stir thoroughly.
If you choose to use a spray, always make sure you back brush after each section to ensure uniformity.
Preserve well and clean the brushes and equipment with water and soap. 
Cleaning is one of the best ways of preserving your log home. It involves the removal of dust, pollen, and mildew and the use of the best stain. 
Consider a Cabot stain as one of the priorities that will enable your log home to stay for the next 3 to 7 years, depending on exposure to elements. 
Use the Cabot stain on your log home the right way and receive excellent results at the end of the day. 
What Wood Stain Lasts the Longest?
Solid, clear, or semitransparent stains last the longest since they are the most weather resistant.
Semitransparent stains have a more pronounced color appearance as they are available in dozens of colors. 
The variety of colors assists in showing off the natural beauty of the wood and adding one favorite stain color to the touch.
A clear sealant is one of the most transparent stains as it gives the least impact on the color of your wood. 
Like wood paint, solid stains do an awesome job of hiding the wood grain, as seeing the grain may be unimportant to some homeowners.
While lasting three to five years on a deck, this ranks it the longest-lasting overall. 
What Is the Best Wood Treatment for a Log Cabin?
The recommended one of the best wood treatments for a log cabin is Oil-based products.
Not only does it protect it from mold, moisture, and fungus, but it gives it a great new look. 
You need to pay attention to the fact that it has to be an oil-based treatment.
Oil-based treatments tend to provide excellent protection always against water ingress and weathering. 
When planning to treat your log cabin, ensure to do it on a sunny day because, during the rains, the wood will absorb the trapped moisture to start rotting or molding in a few days. 
It is therefore important to wait when the log is completely dry to avoid disappointments.
For a serene and beautiful home, ensure to treat your log cabin every two to three years to save you from developing emergency plans. 
Treating your log cabin protects the initial material used and gives it an appealing new look.
It makes it less susceptible to harsh ultraviolet rays, which causes wood surfaces to dry and break. 
Check the instructions to ensure you're using products infused with ultraviolent combatants.
Avoid sustaining damage to your cabin and live a safe and happy life by always treating. 
Should I Paint or Stain My Log Home?
The answer to this question is simple, stain your log home instead of painting.
Whenever you paint a log, it will not breathe after construction, causing its condition to change, making the log rot and call for a replacement for the cabin to survive time. 
Remember, replacements are time-consuming and expensive, so you wouldn't want to go down that road. 
Always look for the right information to help maintain your log home.
Allowing your logs to breathe is the first step to prolonging its service life. 
If you insist that you need to paint your log home, it's good to pick exterior paints.
The most common exterior paints for log homes are oil-based, and latex exterior paints. 
How Long Will Untreated Log Cabin Last?
Log cabins naturally last longer when treated. They can last for decades or centuries.
It is evident when you look at the wooden structures and log houses in Europe.
For those who did not know, that is where the first log homes originated. 
On the other side, if left untreated, it can arguably go for a couple of years but keep standing with a horrible look due to timber discoloration. 
The wood dries up while allowing water as it loses its shape. Let's not forget the insects around that will attack the timber.
The UV light is untreated wood's worst enemy. 
Having the Ultraviolent rays fall on the cabin will cause further drying and splitting of the wood.
Even if it may not rot, it will soak up water in an exposed environment leaving the wood for the dead. 
How Do I Keep My Log Cabin from Rotting?
The direct answer would be to keep it away from water. Use the best log home and cabin stains and finishes.
Maintain the finish regularly to keep the water out. 
If you offer your structure zero protection, the logs on your cabins will rot due to moisture contents that come into contact, especially in areas with high humidity. 
Any moisture that enters the log and is more than 20 percent will result in bad news.
Of course, you cannot depend only on staining, but your cabin will survive with other safety measures. 
Conclusion
When you don't plan the right way, you plan to fail.
This statement explains the importance of creating a proper plan to treat your log homes and cabins. 
I have discussed several stains and finishes in the reviews section and what to look out for when shopping for the right ones to protect and restore your deck. 
With the extensive information in this article, all left is for you to buy one that falls within your budget; even so, the stain should be in a position to serve you right. 
If you have a question that you'd like to put forward regarding this subject, kindly do so in the comment section below.
Also, feel free to air your opinion and suggestions to help make this post even better.