Dents, dings, and scratches are enough to worry a car owner. But no matter how careful a driver is, these flaws eventually find their way into the vehicle. Fortunately, you do not have to lose sleep over them. The issues are fixable without undergoing expensive repairs, just painting or repainting. Also, you are good to go if you have the best primer for automotive painting.
Primers come in handy in restoring the car's beauty. Ideally, you apply the formula on metal surfaces before painting. It covers any surface flaws and imperfections and fills up light scratches. Thus, the vehicle maintains its lovely appearance.
Also, since we have dozens of primers in the market, selecting the most suitable product for your car can be hard. But you have nothing to stress about as this article has all you need to know about the product.
I have reviewed some of the finest automotive primers and expounded on other essential aspects of these formulas.
1. U-Pol (4.2 Voc) High Solids High Build Urethane Primer Kit With Hardener
Primers come in two types: those with an already included hardener and those that harden without any additional coats. This product belongs to the former category.
You get a separate hardener and thus have more control over the project. For instance, you can determine how much hardener you want to use. So, you can always regulate how hard the primer and foundation get.
Another impressive feature about this primer is that it delivers a neutral gray color after drying. This way, you can solidly cover over old paint and offer a smooth surface for the topcoat. Also, the product features the standard four to one blending ratio that allows it to adhere well.
The automotive primer is perfect for large panels and spot repair. It is also easy to sand and delivers a smooth working session. Also, the formula possesses excellent build-up and surface leveling attributes.
On top of that, you can apply the formula directly to metal, over unsanded E-coat, galvanized, aluminum, and over most plastics. It also has scratch-resistant qualities and keeps the surface in good shape.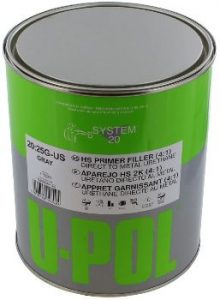 Pros
U-Pol has high opacity.

It delivers an excellent film build.

You will get a neutral gray hue.

The primer includes a separate hardener.

It is also scratch-resistant.
Cons
The product is not VOC compliant in CA.

It is quite pricey.

You may have to thin the formula before use.
Check Latest Price
2. Rust-Oleum 286793 Automotive Universal Bonding Primer Spray
Generally, Rustoleum is a popular and reputable brand. It is one of the go-to brands for most mechanics and car buffs. Thus, you already know that you can trust this primer: It will deliver a successful project.
More specifically, Rust-Oleum 286793 has special ingredients that cover rust making it arguably the best primer for automotive painting you will find around. This way, you get sufficient coverage for damaged or textured metal.
In addition, it is rust-preventive, keeps the surface from rust damage.
The formula also helps the surface bond with the paint coat. More so, you can use it even on the most difficult automotive surfaces and expect an excellent finish. Therefore, the product gives a 
perfect surface for coating while sealing and protecting the metal.

On top of that, this universal bonding primer is multi-purpose and works perfectly on both exterior and interior surfaces of trucks, cars, and other vehicles. It is also suitable for trim, bumpers, plastics, galvanized steel, fiberglass, aluminum, and other metal projects.
Speaking of coverage: this product will impress you, especially on plastics. You can have it for priming the grille. It will cover the whole surface quickly and dry within thirty minutes with the right temperature.
Sometimes the primer delivers some rough spots after spraying. However, this occurrence is not enough reason to write off the product. You can gently sand the surface after the primer cures and still get a smooth, ready-to-coat surface.
Pros
The primer is ready to use.

It saves time and energy.

You can comfortably afford it.
Cons
You'd need a plastic adhesive primer for some projects.
Check Latest Price
3. SpeedoKote SMR-210/211 – Automotive High Build 2K Urethane Primer
SpeedoKote SMR-210/211 specializes in repairing and refinishing mobile devices. You can expect premium quality as it gets its origin from professional and experienced research and development experts.
This product has urethane as its major component. Hence, it is easy to spray and sand to deliver a smooth and flawless finish. However, it would be best to wait for about one day before sanding the surface.
You can thin out the primer without worrying about compromising the overall finish quality. Therefore, you do not have to tolerate thick, ugly coats.
In addition, it is better to use SpeedoKote SMR-210/211 on another base primer as urethane cannot resist corrosion on its own.
Although the primer emits an unpleasant smell, you can easily have a smooth working session with a reliable respirator.
Besides that, the manufacturer gives buyers an incentive: you receive the activator that hardens the paint with every Speedokote primer can.
Lastly, the formula dries fast and delivers a perfect color and gloss holdout after sanding. It also has an easy four to one mix and a high build-up and fills the surface well. On top of that, you will get a perfect medium gray color after the job.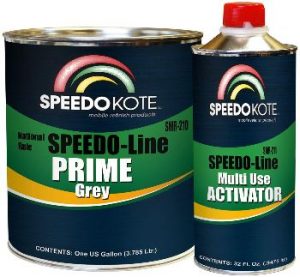 Pros
SpeedoKote SMR-210/211 is a high build urethane primer.

It features great adhesion.

You will get maximum value for your money.

The primer is easy to sand and dries pretty fast.

It is useable over old paint.

The kit had a multi-use activator.
Cons
The base coat needs a urethane topcoat.
Check Latest Price
4. Speedokote DTM 2.1 Voc White Urethane Primer & Sealer Gallon kit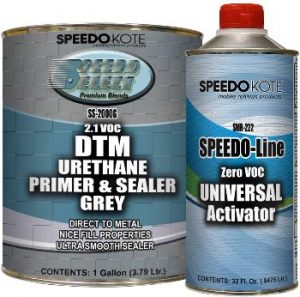 Speedokote has another excellent automotive primer for you! The Speedokote Automotive 2.1 Low VOC 2K Urethane Primer Kit delivers good performance both in efficiency and quality terms.
The primer dries up fast and gives room for effortless sanding. Also, it maintains the original color and luster for a long time. Thus, you do not have to panic because of adverse weather conditions or harsh situations.
This product is safer and more environmentally friendly than most of its counterparts. It has minimum volatile organic compounds. In addition, the accompanying primer activator has zero VOC. However, please still use the recommended safety gear to be on the safe side.
You will also enjoy an easy job, thanks to the primer's superior adhesion attributes. You can combine it with the universal activator in a four is to one ratio. The activator hardens the primer and reinforces its resistance to harmful conditions. Thus, it lengthens the product's life.
On top of that, Speedokote Automotive 2.1 Low VOC 2K Urethane Primer is available in two widely used colors: Black and medium gray.
Pros
Speedokote Automotive 2.1 is a high-build urethane primer. 

It has low VOC and excellent adhesion.

You will get a universal activator in the kit.

The formula delivers an impressive hue and gloss hold out.

It is easy to sand and dries up quickly.
Cons
You need a topcoat for the urethane base coat.
Check Latest Price
5. Dupli-Color EBPR00310 Gray Perfect Match Scratch Filler Primer
This product is a top-notch, high-quality formula that works for all OEM surfaces. It provides additional gloss and protection for the surface and dries pretty fast. Also, it is easy to use and suitable for beginners.
Dupli-Color EBPR00310 Gray Perfect Match is an acrylic lacquer aerosol primer that fills scratches. Therefore, you will get a perfectly smooth surface before top coating with paint or sealer.
The primer has an adjustable EZ Touch 360-degree nozzle, which delivers a wide spray pattern. Hence, you'll get nothing short of smooth, even coats. It is also ideal for scenarios where the originally painted surface chips off or has scratches. In addition, you can use the primer for surfaces that need repair.
Besides that, Perfect Match comes in a complete line of exact-match colors. Thus, it works for both current and late model imports and domestic vehicles. Also, this aspect makes the primer perfect for both painting vehicle accessories and small-scale vehicle touch-ups.

Pros
The primer is sandable and dries quickly.

It repairs damaged surfaces.

You can use it on multiple surfaces.

Perfect Match ensures maximum coverage.

It is ideal for multiple applications.

The formula also dries in 30 minutes, and you can handle it within an hour.
Cons
The formula only works best in low humidity levels and a 70 to 80 temperature range.
Check Latest Price
6. PAINTSCRATCH Automotive Primer
Paintscratch Automotive Primer is suitable for both metal and non-metal surfaces. Hence, it is useful for various projects like bare metal, rubber, and plastic.
It is among the best primer for automotive painting and should be up on your shopping list for primers. The mandatory processes in the application of this formula include cleaning the surface and shaking the bottle for about one minute.
Then, apply multiple thin coats and sand lightly.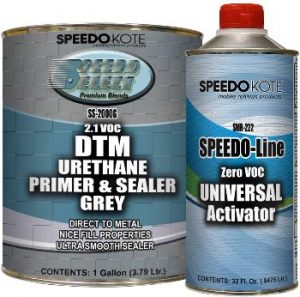 The formula is easy to use in a brush cap container or bottle. You can also use a paintbrush to deliver even coats. In addition, Paintscratch is an excellent option for filling in small blemishes on the surface. 
Pros
Paintscratch dries pretty fast.

It is easy to use in a brush cap applicator.

You can apply it on metal and non-metal surfaces.

The product fills small imperfections on the surface.

It also allows for gentle sanding.
Cons
The primer is not self-etching. Thus, you'd need to etch it or at least scuff it with a 400-grit pad.
Check Latest Price
7. Rust-Oleum 2081830-6PK Stops Rust Automotive Primer
Rust-Oleum has yet another primer that stops rust and thus delivers supreme protection to your surface. You can also bet that the product boasts longevity and high quality. Hence, you will effortlessly deliver a successful product.
As the name implies, Rust-Oleum 2081830-6PK Stops Rust Automotive Primer has the primary role of keeping rust away from your favorite car. It has oil as the main ingredient and thus guarantees high durability by resisting rust and corrosion as long as possible.
The product functions as an ideal primer and facilitates a strong bond between the surface and the topcoat. In addition, it is available in three colors: Light gray, flat red, and dark grey.
Besides that, you can use it on metal, wood, and fiberglass surfaces. The formula is also sandable. Thus it is easy to achieve a smooth surface before painting. In addition, it dries very fast within 15 minutes.

Pros
The primer is affordable.

It is time and energy-saving.

You can coat the finish after 15 minutes.

Rust-Oleum 2081830-6PK is an oil-based formula and rust-resistant.

It also allows for wet sanding.

You will work with three shades of gray and red.
Cons
The formula is not suitable for large sections.
Check Latest Price
8. Krylon Automotive Sandable Primer, KA8611007
This primer sands easily and accommodates multiple applications. For example, you can use it on both interior and exterior projects. Also, it works well on various surfaces such as metal, fiberglass, and wood.
In addition, Krylon fills in surface cracks and imperfections on both painted and unpainted surfaces. You can also use an applicator with a small circular spray like a fan spray nozzle to do small touch-ups.
The formula adheres very well to properly prepared surfaces. Hence, the topcoat gets a perfect surface to hold tightly to and thus delivers a durable project. In addition, you can sand the primer coats to get an even surface.
Pros
The product sands easily.

It works perfectly for both exterior and interior applications.

You can also use it on wood, metal, and fiberglass.

Krylon fills surface cracks and imperfections.
Cons
Users complain that the primer sometimes gives an inconsistent color.

Also, please avoid backing the product as it cannot handle 200 to 250 degrees Fahrenheit.
Check Latest Price
9. Dupli-Color – FP101 Scratch Filler& Primer
This primer has stood the time test for almost a century! In addition, its impressive qualities make it stand out as one of the best automotive primers to get for your project. It is suitable in various facets of automotive maintenance, restorations, and similar tasks.
Dupli-Color features a hi-build automotive formulation that fills minor surface imperfections and deep scratches. Also, it is a fast-drying and sandable product that allows for easy feather edging.
At the same time, you will deliver a uniform, smooth, and rust-resistant surface. Therefore, the car remains as good as new for a longer duration.
In addition, the substance covers the surface well, and you do not have to worry about any dripped stains or blotchy spots. It also saves time as it dries fast to allow you to do your topcoat within no time.

Besides, the primer covers any unnecessary lines on printed products. Therefore, these parts can work more flawlessly with other project chunks. Also, let me add that the formula is affordable despite being such a high-quality product.
Pros
The primer covers deep scratches and lines.

It dries up fast and sands easily.

You can get it at a friendly price.

Dupli Color delivers a smooth, even, and rust-resistant coating.
Cons
The product may not give the exact desired color or the hue on the cap.

It would be best to shake the product every time before use for maximum coverage and effect.

Also, put the primer can in warm water before application.
Check Latest Price
10. Rust-Oleum 2089830 Stops Rust Automotive Primer
This Rustoleum product is suitable for use on various surfaces such as metal, wood, and fiberglass. It is also an oil-based formula that delivers rust-resistance qualities for cars, trucks, and other vehicles.
The primer ensures a long-lasting and durable base cost for most automotive enamels and lacquers. Thus, it provides super adhesion and is suitable for any topcoat. In addition, you can recoat the primer in 15 minutes while delivering maximum coverage. 
This premium spray-on primer delivers excellent resistance to fading, abrasion, and chipping. Therefore, the surface remains good-looking for an extended period.

The product also features any angle application technology that allows you to spray hard-to-reach areas. You can even spray upside down.
Besides that, the product has a comfortable tip with a wide finger pad that reduces fatigue due to continuous spraying. Please also note that the formula is safe to apply on all but galvanized metals.
Pros
The primer delivers a tough and rust inhibiting base.

It has an any-angle spray feature.

You can recoat in 15 minutes.

Rust-Oleum 2089830 has a comfortable tip with a wider finger pad.

It covers the surface faster, even with fewer coats.
Cons
The primer may not deliver a deep and true metallic look.
Check Latest Price
Best Primer for Automotive Painting Buyer's Guide
In the buyer's guide section, I'm interested in ensuring that the buyers get everything right regarding the products in the discussion so that they make the very best decisions in product selection.
Keep reading for more insight regarding the best primer for automotive painting.
What Is An Automotive Primer?
In the automotive space, the word primer refers to a paint-like formula that you apply to a freshly sanded metal surface before adding a topcoat. It is similar to paint as you can apply it using a brush or a spray gun. 
In addition, automotive primers are crucial to the painting process, and you'll even need more than one coat. Therefore, it would be best to allow enough time between coats for an excellent result.
Besides that, the products are ideal for body repairs. They cover up severe scratches on metal and come in handy during small touch-ups. However, please note that deep scratches expose the bare metal. Thus, it would help to sand the surface first then add the primer coat.
Benefits of Automotive Primer
You may feel as if applying a primer before painting is an unnecessary and tiresome step. More so, the paint coat should just stick to the surface without additional work. But a primed surface is important to automotive refinishing projects.
For instance, the primer has perfect filling capabilities that seal the surface against elements. Others work best in conjunction with a second primer type before you finish the paint job. Therefore, you may not need putty products to restore the surface.
Additionally, automotive primers help the paint coat adhere better to bare metal. Usually, a shiny or buffer metal surface, whether old or new, won't bind with the paint without a primer.
This scenario leads to flaking, peeling, and eventually rust. Therefore, the drivable car turns to junk within no time.
A car paint primer becomes the bonding agent that helps the paint coat adhere more tightly to the vehicle's body. More importantly, the auto paint primer helps prevent moisture damage and rust by adding protective layers.
In addition, the primer also works like a putty filler. It serves as a filler for grinding or sanding marks and small scratches on the car's body. Therefore, you negate the need for a prolonged repair job or putty.
Check out the summary below about the benefits of having a primer.
The Formula Allows the Paint to Stick on Bare Metal. 
A primer plays the role of a buffer and allows the paint coat to bond tightly to the car's body. Therefore, the paint will not flake or peel off. And ultimately, the metal will not succumb to rust.
A primer works for both large paint projects and small touch-ups. For instance, an automotive epoxy primer is perfect for refinishing large areas of the car. Also, primers are easy to prepare and apply, and they negate the use of car body fillers li8ke putty. Therefore, you save time, energy, and money.
Automotive Primer Prevents Rust Build-Up.
This attribute is probably one of the most important benefits of having a primer. Metal is usually vulnerable to rust, and it is bound to contact oxygen and moisture all the time. 
In addition, the material slowly degrades and becomes weak once rust begins to form. However, the primer adds a protective coat that prevents rusting. So, the surface is intact for a longer duration.
You Can Use the Product as a Filler.
Surface damage on the car's body is a pretty common occurrence. Moreover, minor collisions will happen at one point or the other no matter how carefully you operate or drive the vehicle. Thus, you can be sure to get dents, dings, and scratches that will compromise the car's beauty. 
Fortunately, the primer fills the damaged areas. It may not cover deep cracks or surfaces but will do an excellent job covering small flaws like light scratches.
What to Consider When Buying the Best Primer for Automotive Painting
Now that we agree that automotive primers are necessary ingredients in the vehicle painting project, it would be best to decipher the essential factors to consider before making a purchase. In addition, we have multiple brands and formulas, and you may need insight on what to prioritize on your search list.
So, let's go through a few things you should not overlook.
This element is probably the reason you are getting the automotive primer. Therefore, it would not make sense to get a formula that succumbs to rust.
Also, it would be best to get a high-quality formula that has excellent corrosion-resistance attributes. This way, you are sure that the metal won't have rust issues.
The best primer is straightforward, and you don't have to go through a ton of steps to complete the job. It would be best to choose a product that accommodates the metal and your preferred surface preparation techniques.
For example, you'll find primers that need to blend with different solutions while others come in aerosol spray applicators. Thus, please consider the time you have to deliver a successful project and pick a product that makes it happen.
Various primers feature different prices based on their ingredients and functions. However, it would be best to check if the formula checks all the necessary boxes. In addition, have irreducible minimums like the formula should adhere to the car's body and deliver corrosion-resistant qualities.
Primers are useful on multiple surfaces ranging from metal to aluminum to fiberglass. Thus, it is essential to get a compatible primer for your project. Otherwise, the product will not adhere well to the surface.
How Do You Prepare Your Car/Automotive for Painting?
First, it would be best to sand sufficiently to facilitate perfect paint adherence. So, please get 180-grit sandpaper to remove surface damage or rust. Then, move on to 320-grit to eliminate your previous 180-grit scratches.
However, regardless of the chosen method, follow it up with 400 to 600 grit sandpaper. This way, you prepare the surface for the new paint coatings. In addition, the technique also works for previously painted surfaces. Thus, you can comfortably work on a repaint project.
In addition, the desired outcome determines how much you sand the surface. But you'll get a better finish by removing the paint down to the bare metal, repriming the metal with an automotive primer, and then having the paint coat.
Also, ensure that you always sand the surface edges extremely well when working with a car or parts. The paint begins losing adhesion and peeling from improperly sanded panel edges.
Automotive Priming Tips
What Kind of Primer Should I Use On My Car?
The automotive primer you use varies significantly with your project needs. However, you can ensure a high-quality and lasting auto paint project and extra rust protection with an excellent primer base. Also, various primer types can withstand sanding differently.
Some of the common primer types in the market include:
Epoxy Primer.

This product provides a good standard base to ensure that the auto paint adheres well to the metal. It also delivers a quality paint finish. In addition, epoxy primers prevent corrosion and do not sand as well as urethane primers.

Urethane Primer Surface.

Urethane primer is two-part and works in conjunction with fillers or putty for a perfect repair job. You also need to apply it over a secondary base primer as it does not have the best corrosion resistance qualities.

Polyester Primer.

The formula delivers an excellent build and fills small dings and scratches. Moreover, you do not need a filler or putty because it has the highest filling capacity. Also, it gives a perfect paint bonding surface. However, polyester primer is prone to cracking and brittle once it dries. Therefore, it is only ideal for small filling and repair jobs, not an entire car.

Urethane Sealer.

This type of primer only serves as a strong adhesive layer for the paint to hold on to and does not have filler capabilities. However, it is perfect when painting a vehicle that is already in good condition. Also, you can use the formula to seal off bodywork or filler.

Acid Etch Primer.

This product is much like the urethane surface as it it is not so much into corrosion prevention. Rather, it focuses on providing a strong bonding surface for the paint coat. Therefore, please use a sealer or rust preventive formula if rust prevention is your main objective.
Acid Etch primer also dries quickly. Hence, it is popular in most body repair and auto shops. In addition, the product eliminates the need for metal conditioners since you apply it directly to the bare metal.
Enamel Primers/Sealers.

Enamel primers are much like epoxy formulas and deliver a perfect base for auto paint. They are also economical and have a fair to a good level of rust and corrosion resistance.

Lacquer Primers/Sealers.

Lacquer primers dry fast and sand better than most products. However, they can crack and bubble in the long term. So, it would be best to use them beneath a corrosion preventive and paint layer for small bodywork projects.

Moisture Cure Urethane Primer.

Moisture Cure provides top-notch rust protection and paint-adhesion qualities to difficult repair jobs where complete rust elimination is impractical. In addition, the primer cures quickly, and you finish your work within no time. Therefore, it is perfect for completing two jobs at once.
That said, selecting the primer for your car is dependent on your project needs and personal preference. For instance, it would be best to get an Epoxy Primer for repainting or refinishing large surface areas. The formula is a two-component primer, providing the best blend of corrosion resistance, protection, and paint adhesion.
In addition, you can use it for multiple applications ranging from prepared steel to fiberglass, to fillers, to factory finishes. The product has a quick drying time and thus a perfect all-around automotive primer for auto body shops and home mechanics.
Alternatively, you can pick Polyester Primer surfacer for little repair projects such as putty or light filling. It features an excellent 'build' that helps it to fill in minor scratches and nicks. In addition, it sands down well and negates the need for the filler step.
Lastly, you can consider the Moisture Cure Urethane Primer for projects where complete rust removal is impossible. The formula provides the best protection from more rust damage. It also sands easily, holds color well, and dries quickly.
Frequently Asked Questions
What Color Automotive Primer Should I Use?
Fortunately, primers are available in multiple colors. Hence, you'll get what works for your project. For example, darker colors are useful when blocking and demonstrate the straightness of the vehicle's lines.
What Is the Difference Between Automotive Primer and Sealer?
The difference between automotive primers and sealers boils down to two aspects. The stages at which you apply them and their purposes. However, their purposes are quite similar. What differs significantly is the stages at which you apply them to the surface.
You can almost guess that the primer goes first from its name. Then, the sealer comes last. In addition, the primer smooths out the object so that the topcoat gets a clean surface. Therefore, it delivers better adherence.
On the other hand, you apply a sealer on top of the primer. It hardens and prevents other materials from passing through the finish. Thus, it protects the surface from atmospheric moisture and water damage.
How Many Coats of Primer Do You Need to Paint a Car?
It would take about two to three coats to uniformly and evenly cover the surface. You can also have additional coats to eliminate thin spots in the middle. In addition, it is best to give the coats enough time to cure before adding other layers.
The drying process takes about 20 minutes to one hour to deliver a perfect surface. So, please be patient to deliver a successful project.
How Long Will The Paint Primer Last?
The paint's longevity is a function of how you maintain and care for the vehicle. It also varies depending on the conditions on which you drive it and existing environmental factors. But manufacturers design primers to last for long durations.
Besides that, the primer's application technique also affects its longevity. For example, you can expect it to last if you use it on a properly sanded surface. Also, you can increase the product's life span by washing and waxing the surface regularly.
How Long Does Primer Take To Dry Off Completely?
Most primers take about twenty minutes to one hour to dry off completely. However, the manufacturer, humidity content in the air, and temperature levels can affect the duration. For instance, high humidity and cooler temperatures will increase the drying time.
When to Use Automotive Primer & When You Might Not Need to
It would be best to apply a primer before covering any surface with automotive paint. Or else, the paint coat will soon peel and expose the metal to elements. Thus, you'll soon observe rust on the surface.
Conversely, you do not need to use a primer if you are not covering bare metal. This aspect also works for plastics. So, it is okay to forego the primer if you have not uncovered the vehicle's steel panels.
Here's How to Prepare Your Automotive for Priming and Painting:
Conclusion
Now you can go and pick the most suitable automotive primer for your car. The formula will deliver superior protection from rust, scratching, flaking, and peeling. In addition, you can relax after paint application knowing that the coat will adhere tightly to the surface for a long, long time.
My top pick among the above products is U-Pol (4.2 Voc) High Solids High Build Urethane Primer Kit With Hardener. It is a versatile formula that works both as a primer and as a sealer. U-Pol is affordable and does well in customer feedback surveys. It also features high opacity and an excellent high build-up that guarantees a successful product.